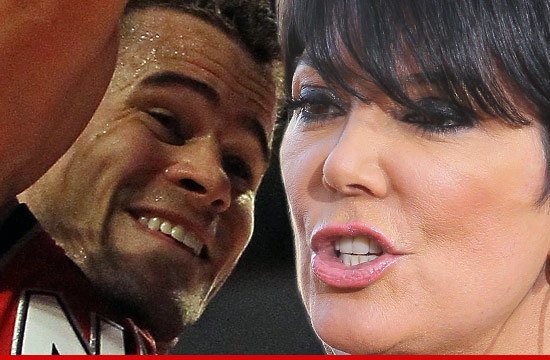 Becoming a very wealthy media whore takes a lot of finessing. Thankfully for Kim Kardashian that's what mothers are for…
In the next saga called, 'this shit is incredible but it keeps me rich and in your face starring Kim Kardashian and co' accusations have been surfacing courtesy of Kris Humphries (Kim's soon to be ex hubby, once all the money part is nicely squared away) that her sex tape with Ray J which first put her on the roadmap was all staged courtesy of KK's mother Kris Jenner.
The accusations come now that Kris Humphries put his big foot in it and has been trying to shut tool piece Myla Sinanaj who he was banging until recently before she went over to the media and started peddling all his secret texts (yes love is a bixch folks). One of the texts claims that Myla is the love of his peen and that he couldn't wait to get his divorce with KK out of the way which compromises Kris Humphries assertion that he was a deer in the headlights when KK wrongfully broke his heart and defrauded misled his sorry naive ass. Of course now this bixch doesn't come off as so naive. Myla of course has now been subpoenaed by KK's lawyers.
But back to the staging of KK's sex tape with Ray J, tmz had this morsel to offer:
tmz: Kris Humphries trashed Kim Kardashian and her family in conversations and text messages to his former girlfriend, Myla Sinanaj … telling her Kris Jenner not only directed Kim to shoot her sex tape, but to re-shoot because Kris J didn't think the first one was pretty enough.
Who to believe who to care about and where do I buy my next Kim Kardashian $455 bath towel?