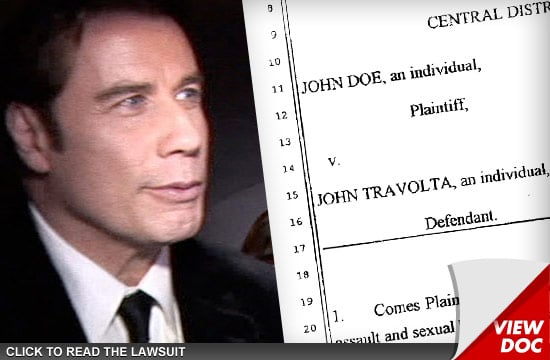 Did John Travoltafeel up a masseur?
Pursuant to a lawsuit by a masseur who has claimed the famed actor felt him up and tried to initiate sex, John Travolta has reacted by threatening to sue the masseur for defamation and libel.
According to tmz, the two met after the masseur placed an ad online which led Travolta responding to it at the agreed rate of $200 an hour. From there it was arranged that the masseur would meet up with Travolta who then drove the masseur to a Beverly Hills Hotel.
tmz: The suit claims Travolta stripped naked, appearing semi-erect. The masseur says he told Travolta to lay down on the table and the first hour went without incident. Then, according to legal docs, Travolta began rubbing the masseur's leg, touched his scrotum and the shaft of his penis.  
The masseur claims he told Travolta he did not have sex with his clients, but Travolta was undeterred, offering to do a "reverse massage," adding, "Come on dude, I'll jerk you off!!!"
So much for customers ensuring happy endings. But it gets better, of course it always gets better…
The suit goes on to allege Travolta then masturbated and told the masseur he got to where he was "due to sexual favors he had performed when he was in his 'Welcome Back Kotter' days," adding "Hollywood is controlled by homosexual Jewish men who expect favors in return for sexual activity."
If one were to wonder for a moment if this was a wicked scene in a John Travolta film starring the actor as a kitsch redo of himself they'd be hardly incorrect in wondering so much. Of course the reality is this isn't a film scene nor a prank starring Horse Shack or the crew from Pulp Fiction. Rather this has now become punk fiction with the very heavy price tag of $2 million that the undisclosed plaintiff is now demanding.
Travolta for his part insists that he was on the East coast on the day the incident is said to have occurred.
Reads a statement that the actor's representative released:
"This lawsuit is complete fiction and fabrication. None of the events claimed in the suit ever occurred. The plaintiff, who refuses to give their name, knows that the suit is a baseless lie.
Plaintiff's attorney has filed this suit to try and get his 15 minutes of fame. John intends to get this case thrown out and then he will sue the attorney and plaintiff for malicious prosecution."
In the end one has to wonder about the commotion that comes with being a big name celebrity and the gay rumors that have been following Mr Travolta for many years. It could all just be a ruse to embarrass Mr Travolta or it could also be a legitimate incident, but of course one has to wonder why the plaintiff who has decided to shield his identity went straight to his attorneys and not to the police in the after math of the supposedly horrid John Travolta encounter?
Then again perhaps the real issue is as one commentator noted as the following:
But the bigger issue this is exposing is why hiding something like being gay (or any other personal activity we want to keep private) is bad.  It allows you to be vulnerable to gold diggers to try to extort money from you.
QANTAS Airline staff said to be repulsed by new John Travolta in house video.
John Travolta gets caught without his hairpiece.
The secret gay life of John Travolta will soon be on your bookshelf.