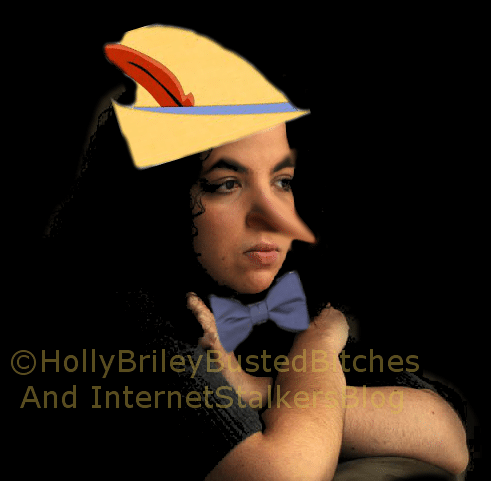 By now the vilification had escalated with the involvement of Ms Holly Briley who was also at this stage writing for the blog radionewz (like Ms Patterson soon after she the Facinelli affair). By now it had become an amusing pissing match of who said what and who was going to be charged and vilified and what not. Then it escalated again (it should also be understood by now that Ms Patterson had by now had alienated radionewz and had even filed charges against the blog:
Wrote Holly Briley to this author last night in a personal email after seeking her thoughts pursuant to troubling comments of possible suicide at the hands of Ms Patterson on facebook:
She did go to the FBI in San Diego, they called me last week.. but not really because of the copyright but because of the things Amelia told them .. like we were threatening her 17 year old brother .. not true. They were however very interested in her claims she is a Dr, etc.. this is illegal in Cali. They were even more concerned about her attempts at extortion. Ive got all this on Radio.. along w/ screen shots. These threats are what spooked Brianne into going buddy w/ Amelia and doing what she is doing again .. and like the first time.. falsely… to Radio, Jon and myself. You know the way she rolls.
But then shortly later I got this email from Holly Briley:
3:40 AM (5 hours ago)

to me
Just what Ive said. She flipped her shit when Amelia started threatening legal moves and the FBI. No doubt because of all the fake DMCA complaints she filed and the fake police reports, etc she filed. I do know that she bragged to Radio and I .. I think before the FBI was threatened that she was indeed faxing the San Diego PD about Brianne. At this point Amelia's threats were just that … threats. Bri really freaked when she found out that the FBI had indeed contacted me regarding all of this business. I told you that story. .. I think this really freaked her out b/c well.. its the FBI. That could possibly lead to not only US charges but potentially international charges against her bc she is in Canada.
As for the suicide threat tonight.. sympathy pure and simple. I opened my Busted Bitches blog back up tonight ( the one I told her I deleted) and was posting it all over letting people know it was back. That combined w/ the hammering she is taking on Radio she freaked.. thought the only way to get people upset w/ us and thereby stopping us was to do the suicide threat thing.
Of course she denies she did it.. youve seen that Im sure. She also insist she is in Vegas right now, but then true to her form, busted herself w/ a post she made http://briannechantal.blogspot.ca/2012/05/tonights-events.html
I dont know what else it is you want to know.. there is so much..you know she has a special brand of crazy. .. she freaked, panicked because she knows her ass is toast..anyone who has pulled as many stunts and filed false reports as she has should be worried.
(A delightful read of Brianne Patterson's fake suicide attempt is recorded here courtesy of radionewz.net)
At present Ms Sobel has physically visited the FBI and is awaiting for a response from their office as they undertake an inquiry into the nefarious undertaking of Ms Patterson who's one saving grace may be is that she may well be clinically 'mad' and perhaps absolved of the now criminal allegations against her.
The curious case of Internet stalker and savage Brianne Patterson.
Peter Facinelli purported lover is fired for refusing to out herself.