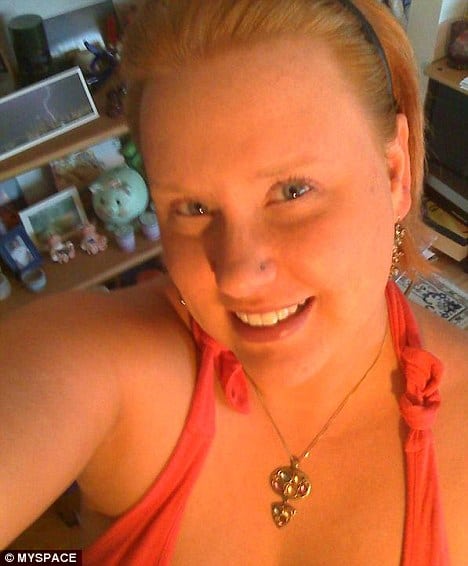 What is it about sexually abusing children that draws the scum out of the woodwork?
33 year old baby sitter, Jennifer Mahoney could be facing up to 33 years behind bars if she is found guilty in an incident which purportedly involved her sexually abusing a 5 year old girl in her charge whilst at the same time live broadcasting it via skype on her I phone.
Offers NJ (brace yourselves): According to a graphic complaint filed in January, Mahoney allegedly talked and laughed while streaming one assault in which she performed oral sex on the girl.
Mahoney's case first made itself apparent to authorities when a taping of the incident amongst many others were discovered in the house of a 32 year old Texan man, Robert J. Ramos Jr who at the time had been under surveillance.
Some of the tapes involved the man having recorded some of the repeated instances of Jennifer Mahoney sexually abusing the child:
The federal complaint lodged against Mahoney in January describes an approximately four-minute video streamed over the internet in which the child was lying on her stomach, apparently asleep on a bed. Mahoney then knelt beside the child and sexually abused her, the complaint said.
In another incident described in the complaint, in which Mahoney allegedly recorded iPhone video while the girl was in a bathtub, Mahoney told her to "lean over sweetheart, so I can rinse you." The girl asked "like a mermaid?" and Mahoney replied "like a mermaid, sweetheart." Sexual abuse then ensued, according to the complaint.
Jennifer Mahoney will be sentenced on August 22, the length of her sentence estimated to be in the vicinity of 15 to 30 years conditional on a mental evaluation that the defense hopes to use in softening Mahoney's jail sentence. Who's jail sentence on the other hand wont be softened is the child who will have to forever live with the trauma and eventual knowledge that she was sexually abused by a caretaker. One can only hope she finds the courage to overcome the stigma and sense of alienation and distrust that such a crime has wrought and that sexual predators who take solace and pleasure in her exploitation come clean as to what actually inspires them to take pleasure in the misery of innocent children, which paradoxically might be part of the thrill in the first place. Then again burning in hell is always an option too..