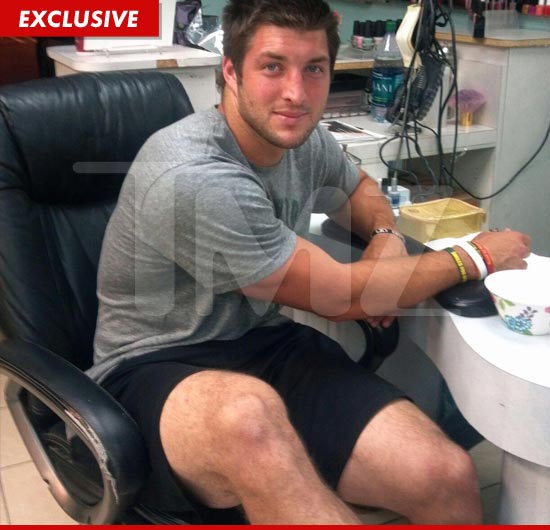 My always preferred cute and cuddly (soon to be New York) bixch Tim Tebow gave a chic "I'm acknowledging this situation and therefore am okay with my masculinity, but I'm still not going to give you a full on smile" smile for the camera's at an L.A. nail salon this week.
TMZ found the new Jets' back up quarter back getting a mani/pedi, and as a result we have this adorable photo. Move over Mark Sanchez, there's a new diva in town.
I don't know what it is about this all American football player that gets my blood flowing. Being from liberal New York, his open prayers, bible quoting, and consistent Jesus praising should really put me off – but for some reason I (as well as millions of other women) – just love every minute of it.
Maybe we can't wait to corrupt this innocent little soul. Actually, I KNOW I can't.
I hate to go there  Teebs but vanity, an example of pride, is definitely a deadly sin. Are you already beginning your transition over to the dark side? I sure hope so.
At least we know our boy isn't greedy because TMZ sources reported that he was
' "VERY friendly" during his $23 mani/pedi treatment … and dropped a HUGE tip at the end.'
Swoon.