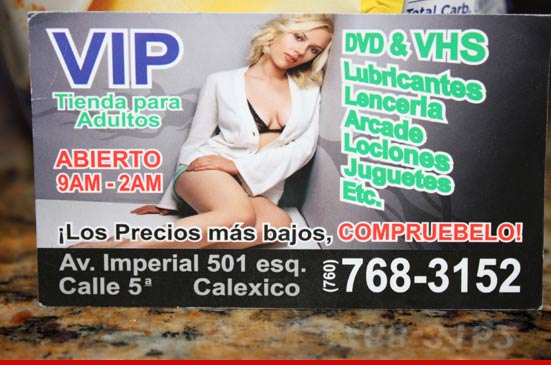 Proving that actresses have more versatile careers than could have previously been imagined comes the story of one adult store depot by a lonely strip by the Mexican border…
tmz: Scarlett Johansson is the new face of dildos, porn, and everything in between — because her image has just been hijacked by a Spanish-speaking sex shop near the Mexican border.
Yes sirree, get your dildo's, twelve inch thing a majigs, lubes and whatever else takes your fancy as you slowly make eye contact with Scarlett Johannson on 'VIP's' business card (hey isn't that a real original name for porn store?).
As of present the actress hasn't responded to her image being used as a catalyst for hardcore porn fantasy going south of the border, but who knows she might be rummaging through the outlet's catalogue right now. Or maybe not….