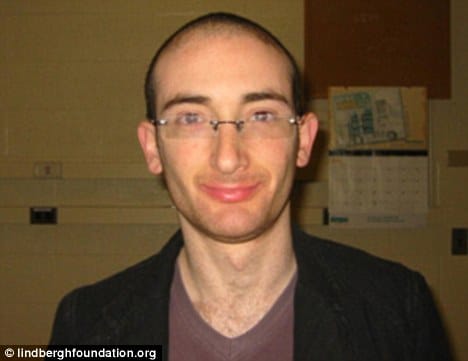 Yaron Segal was moments away from pulling off the ultimate fantasy…
Authorities have arrested a Massachusetts researcher after a sting operation was carried out to thwart one man who had embarked upon a predatory sexual adventure that if consummated would see him having sex with a woman he had met in an internet chat room and her two teenage daughters, a 16  and 12 year old.
Unbeknownst though to Yaron Segal who in his mind was getting closer to a sexual coup d'etat was that the mother was in fact an undercover agent on behalf of Homeland Security whose presence had registered on their monitors earlier this year after the Israeli expatriate was seen engaging in chat rooms with names like 'childslavesex,' and 'ChildRapeTortureBrutality.'
Engaged to weed out the potential child rapist, agent Vanessa Hipps went undercover and assumed the guise of mother with two girls aged 16 and 12.
It wasn't long before Segal was sexually engaging Hipps and telling her that he wanted to fly out from Massachusetts and have sex with Hipps and her two children who he believed to be in Colorado. Over the next weeks it is said that Segal begun escalating his engagement with Hipps who he believed to be a mother with two children for the purposes of sex via email, text and the chat room itself.
In one conversation Segal intimated that he would like to acquire a dildo and a small vibrator for the smallest child. At a later date Segal even went so far as to send Hipps photographs of vibrators he had bought.
Encrypted under the photographs was the following: 'Got the toys,' he wrote, 'those are some big c**ks'.
MIT researcher charged in undercover sex sting: MyFoxBOSTON.com
It was then that Segal decided to finally fly to Colorado to consummate the sexual rendezvous where instead of being met by sexually charged suburban mother and her two nymph daughters he was met by Hipps who revealed that she was a federal agent before police arrested him and took him into custody.
Prior to his departure, colleagues at MIT were told by Segal who had joined the prestigious university only last year that he was going on a camping trip. Which is to suggest some researchers have more varied and perverse definitions of camping then others. Which could posit the idea that perhaps some of the more illustrious entities can sometimes house both brilliant and equally perverse minds.
If charged with conspiring to have sex with a minor under the age of 12, Segal can expect to face a minimum of 30 years in prison.