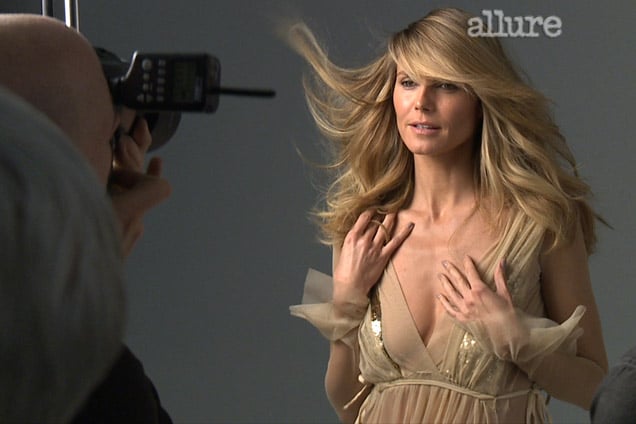 Heidi Klum blowjob at your disposal.
Allure magazine's May cover girl is no other than super model Heidi Klumwho sensing that her naked pictorial may not be enough for the magazine and its readers decided to let on there's more to the lass that lets on.
Asked about the importance of gay men in her life (yes that's the first question I would think to ask a super model, that and the billionaire boyfriend paramours that they juggle) Heidi revealed the following….ready to take notes all you gay men?
"They are like this kaleidoscope of interesting thoughts and opinions. They teach you so many things about men that are useful." "Like what?" our reporter asked. Klum paused, and then made the universal tounge-moving-rapidly-in-cheek motion that signifies blowies. She explained what she's learned (off the record, of course), and our reporter said she discovered two things: 1) Everything sounds authoritative when said in a German accent, and 2) Seal was a lucky guy.
Hmm, speaking of Sealwe then find out that our Heidi still has a hawt spot for the hawt bixch: "You know, I wouldn't change anything. If I had to go back in time and say, 'I should have changed this or that…' No. I don't resent anything that ever happened. Things just turn out the way they turn out…. I'm still in the eye of the storm now, and it's all a little bit crazy. But sometimes you have to be apart in order to figure it out."
As for plastic surgery? Don't supermodels have plastic surgery too?
"Ask me again when I'm 65, but…I'm proud to be able to say, in this day and age, I haven't done anything. Everyone has a view of what's pretty and what's not pretty, and [surgery] just doesn't look pretty to me. Especially when I see it on really young girls. I don't want to name names, but it's like, Wow, I remember you five years ago, looking to me so beautiful, and now it's like… who is this person?"
Ahh, sanity from Germany. Who would of have thought? Kids tonight when you all return home to the privacy of your boudoir I want you to all practice the art of giving head or if you're lucky close your eyes, slowly unzip and visualize Heidi giving you getting some head.
Isn't it time your fashion magazines were a little more PG? No, I didn't think so either bixches.