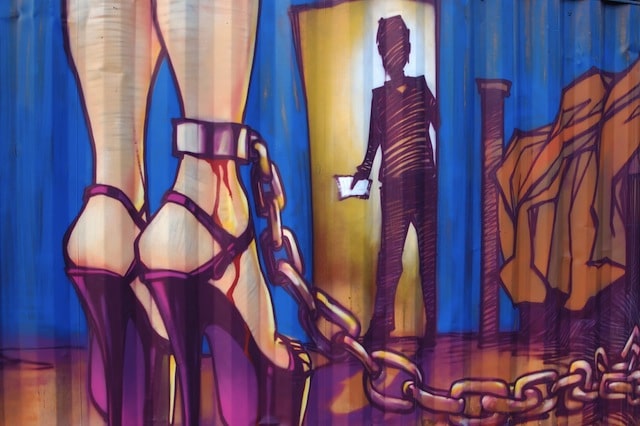 So how did a financial titan like Goldman Sachs come to own a stake in a forum linked to the promotion of sex trafficking of minors and why were they now in a rush to offload their stake after a 6 year ownership, and a seat on the board for 4 years running its affairs the moment a NY Times reporter arrives to do some investigating…? And perhaps more immediately, are we to doubt that Goldman Sachs had no knowledge of who they had come to own equity in after various divestments left them with a 16 % equity stake in a media entity by the name of Village Voice Media who ran adult website  backpage.com who specialize in the advertisement of sexual services on their site which over the course of the last 3 years had been demonstrated  to be associated with the trafficking of minors 50 times alone.
In Saturday's's issue of the New York Times came a remarkable article courtesy of Nicholas Kristof who's been exploring the investment ties of an outlet called backpage.com, one of the leading websites in the US ostensibly promoting the trading of sexual services and as it also inadvertently has turned out the trafficking of minors as well.
The forum Mr Kristof reveals to us after some exhaustive research on his end is owned by a private outlet called Village Voice Media (who happen to own the Village Voice where so many of these type of ads are often placed), but that's not all. Who owned and ran Village Voice Media included a consortium of other stake holders, including Goldman Sachs who until this recent Friday had had a stake of up to 16 % stake in Village Voice Media. According to Goldman Sachs spokesperson Andrea Raphael who personally called in to the NY Times journalist (can anyone guess why?) Goldman Sachs had just finalized the sale of its equity stake in the entity that day. Once again can anyone guess why?
Before proceeding with the story, it might also help to understand how the dilemma underpinning backpage.com came to exist in the public consciousness. It came as a result of various arrests and instances of minors being directly tied to backpage, who happened to be owned by Village Voice Media who have been under increasing heat for sanctioning what many question is the implicit underwriting of sexual trafficking of minors, despite Village Voice Media's assertion that it thoroughly screens ads placed on the site.
It had been this unearthing that had inspired Mr Kristof to dig deeper and wonder if Village Voice Media was running the Village Voice and backpage, who else might there be involved alongside it in the in the management and ownership of its affairs?
To date the Village Voice has seen a steady cadence of protesters demanding that the Village Voice close the site backpage. The only problem being the site helps generate the parent company $22 million a year, which is to say closing backpage hardly looks like the most economically sensible thing to do.
Which brings us back to Goldman Sachs and the other owners who comprised the outstanding equity ownership of Village Voice Media outside of its principal owners Jim Larkin and Michael Lacey.
Reports the NY Times: The two biggest owners are Jim Larkin and Michael Lacey, the managers of the company, and they seem to own about half of the shares. The best known of the other owners is Goldman Sachs, which invested in the company in 2000 (before Backpage became a part of Village Voice Media in a 2006 merger).
A Goldman managing director, Scott L. Lebovitz, sat on the Village Voice Media board for many years. Goldman says he stepped down in early 2010.
Let's be clear: this is a tiny investment by a huge company, and I have no reason to think that Goldman's top executives knew of its connection to sex trafficking. Goldman prides itself on its work on gender: its 10,000 Women initiative does splendid work supporting women in business around the globe. Full disclosure: Goldman's foundation was one of about 15 funders of a public television documentary version of a book that my wife and I wrote about the world's women.
Nevertheless Kristoff does acknowledge that Goldman Sachs still had equity ownership in a company tied to sex trafficking in minors, something that could not hardly have not been fully understood if one chose to listen or investigate to allegations over the years that this is backpage's forte.
In fact Goldman and the other minority owners instead of reacting to assertions of trafficking of minors (are we to believe they had no knowledge of such assertions?) chose instead to do nothing. Not once did they consider voting as a block on the issue, but now that it has been brought to the public's attention that backpage has a traceable history of exploitation of minors,  minority owners like Goldman Sachs and another outlet Trimaran have been working to offload their investments.
What are we to believe in the end? That Goldman Sachs with their business acumen had no idea of the inner workings of such an enterprise and only now since public condemnation did they suddenly wish to exit? Why did they not choose to simply dis-engage in the first place when they first acquired equity after the divestment swap? Then again how much control can one exert on a media entity involved in various cross stratas of revenue accumulation? But then again Scott L. Lebovitz, a senior Goldman Sachs executive did sit on the Village Voice Media board for many years….
Could it simple be an instance of conveniently looking the other way as profits mount. Exploitation of minors? Ethics? Is this something Goldman Sachs really looks into, or only when it's caught when we demand it ought to? Or it could also be the New York Times having one more go at Goldman Sachs after a brutal expose by insider Greg Smith as he questioned his soon to be ex employers' business ethics? After all nothing sells more than the allegations of a purported hero or home wrecker once again acting out of line…
Top Goldman Sachs executive quits over toxic culture of greed.
Today's douche bag courtesy of Goldman Sach's Anonymous Twitter.
Goldman Sachs employees are now being ordered to stay away from Occupy Wall st.
Goldman Sachs ethos dissipates into a free for all.
It's confirmed the public must tolerate being poor.
Observations of a Wall st Trader.
Wall st boys told to 'not even think about buying that Ferrari."
Goldman Sachs pervert caught soliciting 15 year old for sex.