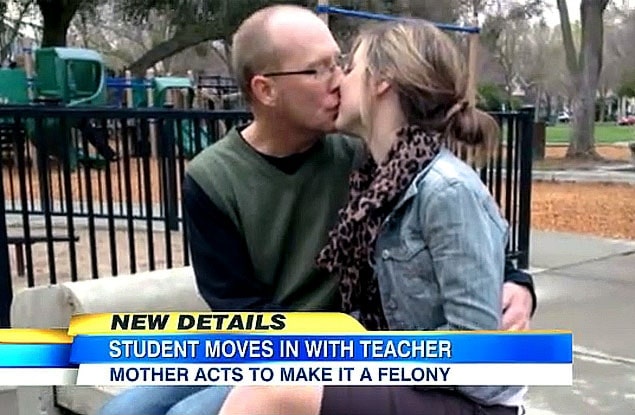 41 year old James Hooker's 18 year old live in girlfriend, Jordan Powers has finally moved out.
Media pundits have been wagging at this story for a while. It had many of you up in arms but personally I just saw it as a tender coming of age love story. And so did Jordan Powers until her boyfriend James Hooker was arrested this Friday for allegedly sexually abusing a 17 year old student fourteen years ago.
dailymail.co.uk: The teenage girlfriend of a former teacher who abandoned his family to move in with her has ended their controversial relationship amid claims he sexually abused a different student more than a decade ago.
And her mother has spoken out to condemn the relationship, saying: 'I've always had the same contention that he's a pervert and this predatory behavior didn't start overnight.'
Christopher James Hooker, 41, was arrested for oral copulation with a minor he taught at a California school in the 1990s, years before he struck his relationship with 18-year-old Jordan Powers.
Police said the case stems from a 1998 relationship he had with a 17-year-old student from Davis High School in Modesto.
Hmm, so much for standing by your man. But then again what can an 18 year old girl say or think when presented with an array of information that points to the culpability of her man having a flair for what amounts to sexual predatory relationships?
Then again, perhaps Mr Hooker is innocent. Or not. Either way it's interesting to note that these charges took fourteen years to materialize. Wouldn't a 17 year old girl race to authorities if she felt she was sexually abused by an adult? Especially her school teacher? Or maybe the shame and conflicted feelings she had for her former school teacher were too much to bear until now?
Of course what does a 41 year old man expect from an 18 year old girl he met at school? Most 18 year old girls aren't adept at adjusting to conflicts that betray the real world rigors of romance, especially when the man she is involved with is alleged to be guilty of a crime that he has yet to be found guilty of or did over a decade ago. Underpinning her sudden departure is the fact that the young woman only needed the slightest hint at culpability before she would bolt out that door.
Said Jordan Powers to ABC about confronting her Mr Hooker about the allegation:
'He didn't deny it, my heart dropped, I feel betrayed. I have a gut feeling that there's other girls. How can he look me in the eye and tell me he loves me. I don't understand how someone can have such a cold heart.'
The issue of Mr Hooker being involved with Jordan Powers first came to a head when the young girl's mother, Tammie Powers set forth a campaign to bring scrutiny to her daughter's relationship with the much older man. At the time the couple insisted that no sexual reciprocation had occurred between them until she turned 18, that despite a multitude of racy text messages between the two whilst Jordan Powers was still 17. The couple went so far as appearing on national tv shows, Dr Phil and Good Morning America where they were each time met by a hostile reaction towards Mr Hooker.
At the time many had felt that Mr Hooker should have let what was probably a school crush subside instead of acting on 'a vulnerable young girl's fantasies.' The fact that Mr Hooker left his wife and three daughters to live with the girl who dropped out of school upon her turning eighteen against her family's wishes didn't augment too well either.
Said Jordan Powers further:
"He called me from jail, and yes, I told him we're done," she said. "I lost everything for this guy. I lost my senior year. I gave up all my friends at high school because they didn't agree with me."
The charges against Mr Hooker have now led to authorities seeking to assert whether there was indeed sexual relations between himself and Jordan Powers. In the interim, Jordan Powers has packed her belongings from Mr Hookers apartment and has joined her mother at undisclosed location.
One though does posit to wonder how this would all play out if the gender roles were reversed and whether in fact as much scrutiny on behalf of the media would have played out which some would argue have sought to re affirm the notion that men are by nature sexual predators waiting for innocent 17 year olds to eat live and whole.