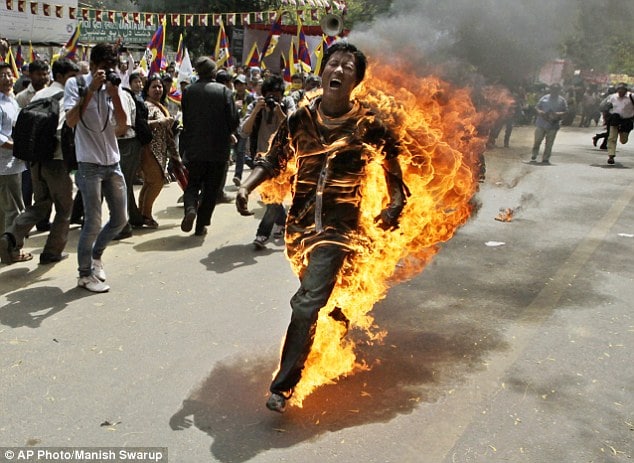 A Tibetan protester is being treated for severe burns after setting themselves alight ahead of China's president, Hu Jintau's visit to New Delhi, India. According to witnesses, the protester carried out the self immolation at a rally as speakers got up to speak, lighting himself up and thus proceeding to run a distance of 50 meters before fellow protesters beat out the flames with Tibetan flags. It is believed the man and fellow protesters had gathered to express their disdain with China's almost monopolistic control of neighboring Tibet and for Tibet's freedom.
In the last year alone there have said to been up to 30 immolations as protesters continue to bring attention to the ruthless control of Tibet by China.
The Dalai Lama has blamed China's 'ruthless policy' for the self-immolations. China on the other hand accuses the Dalai Lama of stirring up trouble.
China says Tibet has always been part of its territory. Tibetans say the Himalayan region was virtually independent for centuries.
The protester who had set himself alight originally hails from Tibet and is said to have suffered extensive burns to his body, whilst others in the crowd offered that this is the punishment China can expect to receive if they did not abandon Tibet.
Offered Philippa Carrick, the chief executive officer of the Tibetan Society in London: "this is indicative of the strength of feeling and solidarity Tibetans in exile hold for their family and kin inside Tibet".
"Sadly it would not surprise me if this was not an isolated incident. Until China, through their own will or through pressure from world governments, begins to address the underlying grievances held by Tibetans, such drastic acts will not stop. After 60 years of occupation, Tibetans are clearly signposting they have had enough."
The million dollar question of course is will foreign governments pressure China to cede control or will one man's actions today have all been in vain?