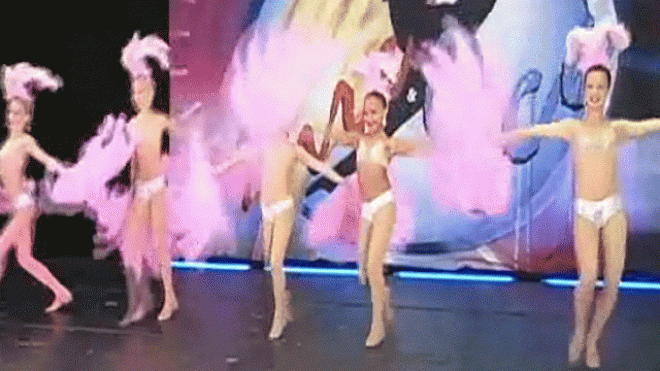 'Let them think you are nude. Completely topless.'
The above words from TV show 'Dance Moms' dance instructor Abby Lee Miller have caused some degree of consternation as the show's producers are now being accused of sexualizing children by presenting children as young as 8 in what many argue to be sexually charged attire.
In fact so incensed has the commentary become some are now concerned the portrayal of children  in risque routines have invited them to the prying eyes of pedophiles.
Abby Lee Miller, the show's choreographer and instructor for her part is unfazed by the criticism, arguing that it is 'generally understood by everyone in the industry that the girls are completely covered and everyone is harmless.'
That of course doesn't necessarily assuage those who believe manipulating the image of young children for the sake of a routine is just art for arts sake.
Argues human behavior expert Patrick Wanis, PhD: "This condones, encourages and motivates adults to imagine little girls dancing naked for their pleasure. Of course it will arouse pedophiles and offer them a new legal avenue to engage in their lustful thoughts as they watch the little girls 'nude' on television."
But the criticism didn't just start this week with the recent airing of controversial routines. It first began a few weeks ago when Hollywood actress Katherine Heigl wrote on her blog the following:
"I watched with open-mouthed amazement as girls as young as seven were encouraged to dress provocatively and shimmy around a stage doing a dance performance that could just as easily been a burlesque routine," 
And further augmenting on her ideas that the show was sending inappropriate messages to young girls the popular actress added the following:
"I kept thinking all these girls were missing is a pole! I was also horrified by the way their instructor spoke to them when she felt they weren't up to snuff. It was demeaning, belittling, and downright unkind."
Dance Coach Has Young Girls Perform Wearing Showgirl Costumes: MyFoxLA.com
That said, perhaps a better guage of how the routines is going down  with audiences can be guaged via a sampling of comments left by a variety of readers from a variety of blogs that have already written on the topic.
From eonline: pedophiles of the world unite!
This show is such a train wreck that I can't stop watching. First of all, Abby Lee Miller is a dance coach, she is not a dancer and she has no children. I don't understand why any mother would take their child to a dance instructor who is not nor has ever been a dancer. These girls are extremely talented, so why not take them to someone who is not abusive like Abby, who would like out for the best interest of their children, and who is actually a dancer. The mothers are equally responsible by allowing this bully to push them around. Oh, and the second one of the mothers disagrees with this monster, she spouts that they have bad parenting skills. How does Abby Lee Miller know bad parenting, she's not a mother. I'm not a mother, either, but I do know how to look out for the best interests of a child, and I would never pimp out anyone, especially a child.
Oh give me a break! You guys are a bunch of whiners who clearly know nothing about the arts or dance.The girls looked great and the fact that she was so creative with the concept is why her studio has been a constant winner in competitions all-over the country. Abbey gives direction and discipline where the parents have failed. If the girls hated it so much they would have quit-oh yeah, Brooke did and then came right back begging for her spot back!
dailymail.co.uk;  It's time to put a stop to all these shows exploiting little children in such a sexual manner. They're kids for heavens sake and as a parent you should have taken your child's hand and marched them straight out of there and never returned. It's as simple as not watching, low to no rating will get it off straight away. I can only think this woman did this for the rating, extra cash in her pocket at the expense of the exploitation and humiliation these kids. People are drawn to the strange and bazaar behaviour of the minority, woman are equally if not more guilty of watching this rubbish. Vote with your head and heart and change the channel get them off the air.
The sexualisation of children needs to stop RIGHT NOW. I only have to look round where I live and see girls of this age dressed like 18 years olds and behaving inappropriately. An 8 year old across the street from me dresses like a mini tart and her mum gives her a fake tan. I don't even understand why mums think this is OK.
I have to think that if it was fathers taking their children, would the girls still be allowed to perform the same routine. This is very disturbing indeed and am I the only one who thinks it is actively encouraging pedophilia???
And perhaps most telling is the following reaction from fox that certainly forced this author to wonder out aloud what we really mean by the word for 'art's sake' and what is appropriate or inappropriate with respect to what is performed and how much that idea changes when there are children are involved:
This is absolutely horrible. I would pull my daughter from that dance studio and place her somewhere where it's about raw talent, developing skills, and not shock value. What mother is comfortable with their daughter prowling around onstage simulating toplessness and sensuality with dance moves? What FATHER would be comfortable with this? Especially knowing that there are pedophiles that would love to get their hands on footage like this? How is this art? It's not. Art does not equal shock value, even if shock value is sometimes a characteristic of some art. The human body is beautiful, yes, but I tell you there is a DIFFERENCE between the beauty of the human body and parading sexuality – and even more so when children are involved. Children are not adults, they rely on the protection of their parents or caregivers. Where is the protection, mom? Dad? And telling the girls to dance like he can't afford you? What is THAT supposed to mean?