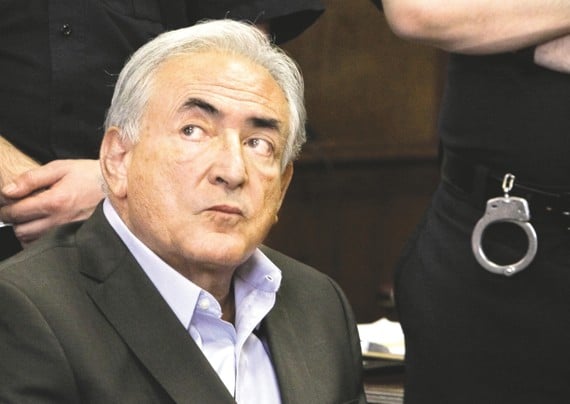 Somehow he had managed to keep two steps ahead of the law but now it seems the law may have finally delivered the goods on one man who many thought it was only a matter of time before he was brought into accountability…
washingtonpost: PARIS — Dominique Strauss-Kahn, former head of the International Monetary Fund and once a leading candidate to become president of France, was charged Monday night with helping procure prostitutes for sex parties that he attended in Washington, Paris and elsewhere.
The charges, brought in the northern French city of Lille, marked another sordid chapter in the swift downfall of the 63-old-economist and Socialist Party politician. Until last May he had been considered the main likely candidate—and a probable winner—against President Nicolas Sarkozy in France's two-round presidential election scheduled April 23 and May 6.
Considered the main candidate, but then what went wrong? How had Mr Strauss-Khan found himself first alleged to have raped a hotel maid, then a French journalist in his home country, rumored to be part of a tribe that partook in high end escorts and now possibly linked to a consortium that profits and deals in prostitution.?
Was it just folly, ego that he was invincible, a clever master mind plot to undermine him for some unspoken wrongs, the  effects of an overzealous media or simply it just may be despite the coincidences of Mr Strauss-Khan lately finding himself on the wrong end of the block he is still innocent of all charges and innuendo against him. Still innocent but for those who once counted on him in filling a power vacuum in French and European politics he might as well be buried out to sea, dead on arrival.
Strauss-Kahn had no immediate reaction as he left the courthouse after about eight hours of questioning. But one of his lawyers, Richard Malka, who announced the magistrates' decision, said his client maintained he was innocent of any crimes, as he has throughout the investigation, because he thought the women at the sex parties were just out for a good time.
And could this be the one clue that shines a torch into Mr Strauss-Khan's conduct? He never meant any harm, it was perhaps only inevitable that he perceived women the way so many men do today, as sex objects one can charm, barter at or simply buy. Could the law now hold him responsible for conducting himself in a way that he has never really attempted to hide, not even to his own wife whom he openly attends his passion for other women in front of? Could it just be a situation that for the longest time no one seemed to mind, question or put too much emphasis on a type of attitude that traveled in certain circles? An attitude that was until recent attention an unspoken code or insiders game until some deal, transgression took place, or misnomer caught the attention of somebody who was now no longer able or willing to protect a man and the position he had assumed was his all along.
The Lille prosecutor's office announced that Strauss-Kahn was not imprisoned immediately but was put under judicial control, meaning he must remain at the disposal of police and investigating magistrates who can also limit his travel.
How ironic is life after all….
Dominique Strauss-Kahn would like to explain to you how he managed to get invited to underage orgy parties.
The media is now beginning to turn the alleged Strauss-Kahn rape victim into a 'prostitute.'
Dominique Strauss-Kahn; Set up patsy or sly womanizer?
Welcome to the brave new world where executives sexually harass women.