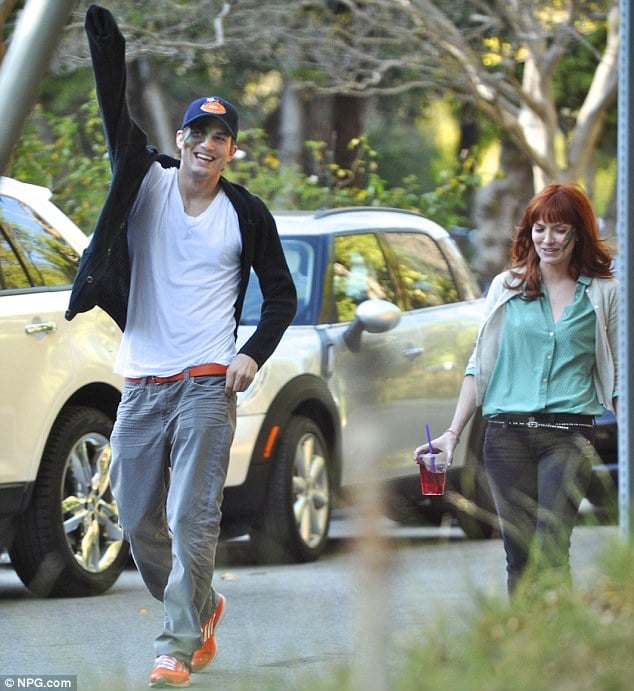 Good bye sugar momma, hello hawt Hollywood screenwriter love interest.
Whilst Hollywood's favorite whack job du jour Demi Moore has been sequestred in rehab, her ex boy toy Ashton Kutcher has been out and about testing the rosy fields of 'Hi my name is Ashton hawt bixch and I couldn't help but notice the siren wailing as I played pitter patter eye bat lid games with you…'
That said it's been rumored the latest catch for the Hollywood actor/hearth throb (tell me if these  two words aren't synonymous?)  has been fellow Hollywood scenester and screen writer Lorene Scafaria.
In telling signs that these two are involved cameras pried images of these two yesterday as they set out in matching colors, painted faces to join friends for a friendly game of 'Ultrazone.'
But it seems these two being spotted together once again is barely a coincidence but an ongoing pattern. Notes the uk's mirror:
There's been lots of chat about Ashton, who split from wife Demi Moore last November following allegation he'd cheated.
By Christmas (just the ONE month after) he was Tweeting pictures of himself with screenwriter Lorene and another friend in Italy with the post: "Roman holiday with homies. @mazzant @LoreneScafaria Have an amazing new year!!!"
Since then the gossip has continued, with RadarOnline claiming he took her to Madonna's post-Oscar party.
Could it be that our collective hawt bixch Ashton will retain his title of preferred bixch du jour of Hollywood as he settles in his new life post Demi and with someone that the media and the public have been insisting he do from the outset; someone his own age? It's also interesting to note as a writer that Ms Scafaria may be challenging our collective heart throb's mind and judging by her natural untarnished features and physique it could be just what the doctor ordered….