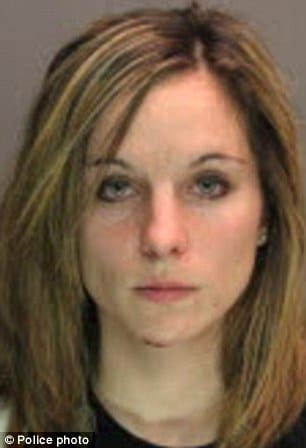 Never mind what God wants, it's what my loins want…
Nicole Jacques, a former Baptist teach at Calvary Baptist school, Towamencin, Pennslyvania has been arrested for raping a 15 year old boy. The boy she is alleged to have raped is a student she had met at the school whom she later left to carry a full on relationship with.
At present Ms Jacques is facing 20 counts of statutory rape, 20 of involuntary deviate sexual intercourse, ten counts of unlawful contact with a minor and 20 counts of a corruption of minors. Which is to say not bad work if you have the stomach or the desire to usurp your power as a role model, which in some way may have been the lynchpin of Ms Jacques' desire to pursue the teenager.
The affair came to the attention of authorities after the child's father reported that his son was engaging in 'excessive and inappropriate communication' with the defendant. At the time the boy confessed to having sex with the teacher on many occasions at her apartment, which is believed not to have consummated until the defendant ceased teaching at the school.
It is also worth noting at the time of her resignation from the school Nicole Jacques offered the school no official reason as to why she was leaving.
Offered Calvary Baptist School Administrator Randy Thaxton: "The safety of our students, as well as their spiritual and educational development, remain our primary concerns here at Calvary Baptist. We will continue to strive to provide a learning environment that is both safe and nurturing for our students."
At present the school which has a strong emphasis in religious education has no further comment on the case.
Former Montco Teacher Accused Of Having Sex With Teen: MyFoxPHILLY.com