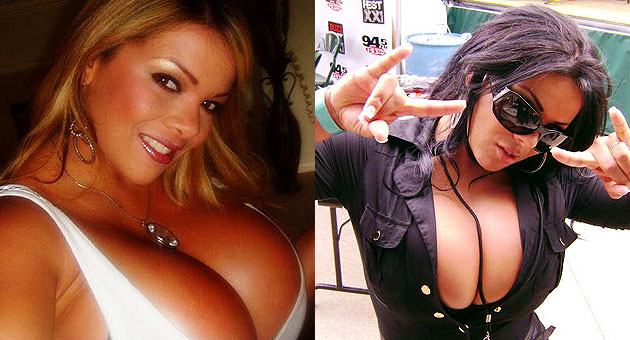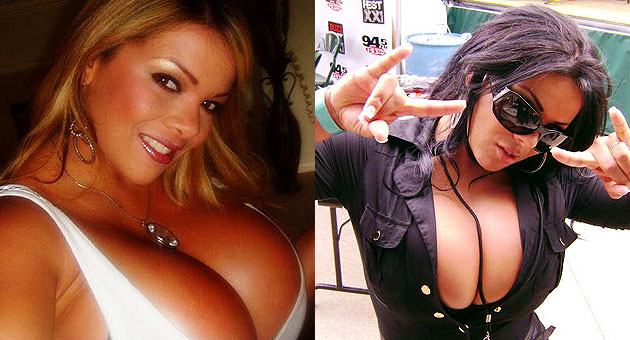 Oh dear, it seems Sheyla's ahem breasts saved her from certain mortality in a recent car accident. Well at least according to Sheyla who is now gallivanting today telling anyone who'll listen to her that her giant breasts helped absorb the impact of her car crashing into several trees. Then again, Sheyla always lives large…
nypost: Texas ta-ta titan Sheyla Hershey — who holds the Guinness world record for the largest fake breasts ever — is thanking her enhanced bosom for saving her life during a violent smashup.
Hershey said her size 38KKK bust shielded her after she slammed her Ford Mustang into several trees while driving home from a Super Bowl party Sunday night.
She was not wearing a seat belt.
"I think my breasts saved my life," Hershey told the Barcroft Media news service.
"The accident was bad and my boobs are sore, but they protected the rest of me."
Kids let's be honest, I think Sheyla has got a point here. If it was you and me in that car we'd be singing lullabies in either hell or heaven right about now- but not Sheyla. Us flat chested types could never sustain the shocks that gals like Sheyla can so readily ahem absorb. Which brings up the following drama- what has become of Sheyla's breasts now? Surely they must be somewhat fatigued or at the very least deflated? Should we assume Sheyla has already begun consulting plastic surgeons to help her reinstall her to previous grandness?
Here's what the Post has to say:
Hershey is lucky the wreck didn't happen four months earlier.
After getting a life-threatening infection in a previous set of breast implants, she had them removed in November 2010.
She got her bosom "reinflated" to size 38KKK in an operation last November.
Oh well, looks like Sheyla's going back to the drawing board. The only question is will she re-inflate her 'assets' back to 38KKK or for added insurance 38KKKK? After all, there's no saying when Sheyla our heroine might find herself in another calamity….
In the interim Sheyla has had bail set to the tune of $1800 for drinking whilst under the influence, something she vehemently denies. Indeed…
Woman Says Breast Implants Saved Her Life: MyFoxHOUSTON.com