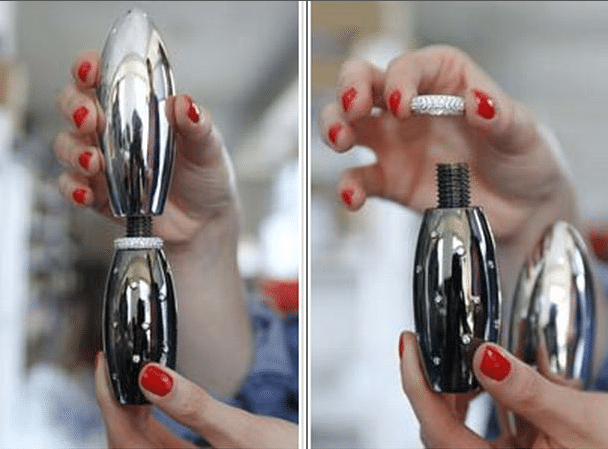 Are you in the mood for a dildo this morning? Or how about a vibrator…? Then again there's also the moregasm kit too….
Oh dear kids, me and the chipmunks are blushing through our naughty pajamas this morning with the recent news that one can now courtesy of one Brooklyn sex store, Babeland, order sex toys and have them delivered within the hour.
brooklynpaper: A Park Slope sex toy store has the answer for residents that want some action on days when they just don't want to get out of bed.
Babeland is delivering kinky treats right to your home within an hour — teaming up with a bike courier company to bring adult goodies to Brooklyn horndogs because in Brooklyn, getting dildos should be no different than getting Domino's.
General Tso's or pork fried dumplings or an orgasm? Hmm, that might be a difficult choice kids. After all I am partial to the odd orgasm. But that's just me.
The door-to-door of service works like this: whoopie-makers can scope out items online, then call Babeland to place an order. A receptionist at the shop, which is located on Bergen Street near Flatbush Avenue, then assigns the delivery to a cyclist at the forward-thinking bike messenger company, Clementine Courier. A pedal-grinder then drops a "discreet-looking box" at any address in Brooklyn, usually in less than an hour.
A cursory regard of the available inventory on Babeland's website includes the following delights:
Orgasm in a box- his. Orgasm in a box- hers (both retailing for $18)
Of course ever curious to find out what orgasm in a his box includes the chipmunks clapped loudly in applause when we read the following:
Sex toys aren't just for women, and the Orgasm in a Box (His) won't rest until all men are believers! The Tenga Egg penis sleeve is soft, stretchy, textured, and reusable; when combined with the two BabeLube lubettes, it'll make his next masturbation session better than ever. The Sonic Ring Kit (batteries included) provides for added sensitivity and delayed ejaculation—plus, it's designed to vibrate against his partner's clit during penetration, so everyone wins. Save $9.50 when you buy these toys as a kit!
Other mercurial delights include honeymoon in a box (kids, something is beginning to stir under the bed sheets as I write…)  for $32, share the love kit for $39, the moregasm kit for $250 when you intend to stay under the bed sheets all day and wack off and then there's my personal favorite: the mystic wand and G spot attachment combo for a mere $87….
Of course in the event you think Babeland is taking advantage of your preternatural disposition to lust you'd be mistaken. Offers Steph, one of Babeland's sex educators (adult stores now come with sex educators, no way!) the need was so great that customers suggested to them they ought to offer a service delivering sex toys. And here I was thinking I was living in a nation amongst impotent prudes….
And prey how much does delivery cost?
For a mere $30 the store promises to get your item orgasm of choice within the hour. Of course they have pledged this Valentine's day to get you your goodies without the $30 fee.
Isn't it time you had an orgasm delivered to your front door this morning?