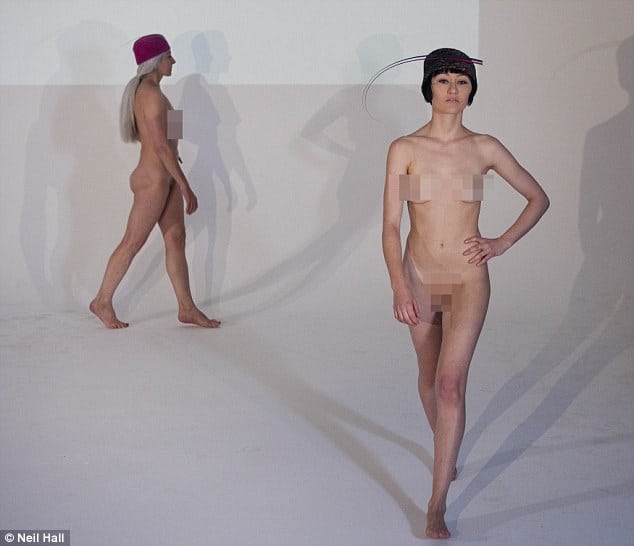 'I needed the publicity so I decided to send out the models in nothing but my hats.'
Talk about doing anything to get exposure (and as you can see designer Robyn Coles' ruse worked) but one Welsh designer showing her debut collection at London's fashion week at East London's  White Rabbit Studio in Shoreditch, included Robyn Coles who came up with the idea of sending out her models stark naked. That needn't matter though cause Robyn Coles is in the business of making hats, and to be sure there will plenty of hats on show.
Opined the designer: 'As an unknown designer you have to find ways of getting people to your show. I wanted to use different models and different sizes. I'm a big believer in that. With accessories like hats it doesn't mater what size or shape you are.'
All the hats are felt for autumn/winter so they are ideal for winter weddings and races. Winter hats don't have to be monochrome.'
With 4 models being used for the show, including the actor and comedian Jeff Leach (and of course you can see the humor in all of this….) one of the models who was reportedly more than happy to participate was the very pregnant former Miss Wales, Sophia Cahill.
With Ms Cahill well into the final trimester of her pregnancy, the designer is said to have wanted to include Cahill because it is so rare to ever see pregnant women on the catwalk.
Reflected Ms Coles: "She was one person I knew would be more than happy to get her kit off.
"I thought it would be nice she would be pregnant for the show. You never see that kind of thing in fashion."
No word whether next years collection will be shown naked yet….