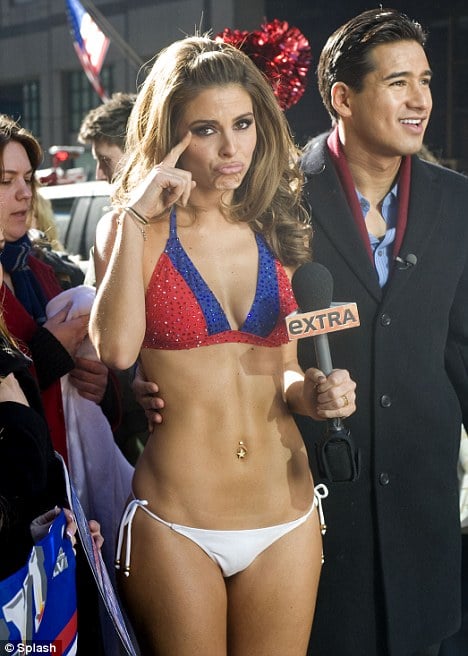 Making it in America these days requires wearing an itty bitty bikini whilst the camera boy is looking your way…
Kids, Maria Menounos, media whore on the rise has decided the only way to make herself relevant in America is by a/ either coming out with her own sex tape that she secretly leaks b/ intoxicating herself on nitrix gas whilst on the phone to 911 or c/ the third most guaranteed option to make her a verifiable media cash cow- that's right kids, strutting in her itty bitty bikini in front of every wanton camera crew within a 70 mile radius after of course losing a bet that she was desperate to lose in the first place.
dailymail.co.uk: She may have lost a bet after the New York Giants won Super Bowl XLVI yesterday, but Maria Menounos definitely gained some new fans today. 
The 33-year-old Extra host gamely stripped down to a tiny string bikini in Times Square this afternoon.
She had promised her Extra co-host Mario Lopez that she would wear a Giants bikini in the bitter New York cold if the New England Patriots lost the Super Bowl.
Then again who can really blame Maria  for taking the plunge? Not Mario Lopez her co host who only two weeks ago stripped to his underwear to show Ellen Degeneres that his package is firm and rigid and well equipped to become a verifiable media cash machine too. Anything that bixch Mario can do, Maria can do better…
Never one to forfeit a bet, Menounos disrobed to reveal a sparkly red and blue top and brief white bottoms today.
She wisely kept a pair of warm Ugg boots on her feet.
Ugg boots because that was Maria's way at the end of the day of letting you know she still has her feet on solid ground. After all nothing says decency than a pair of ugg boots whilst wearing a tinny itty bitty sparkling blue and red bikini in the middle of Times Square with snow drops somewhere a few hours away…