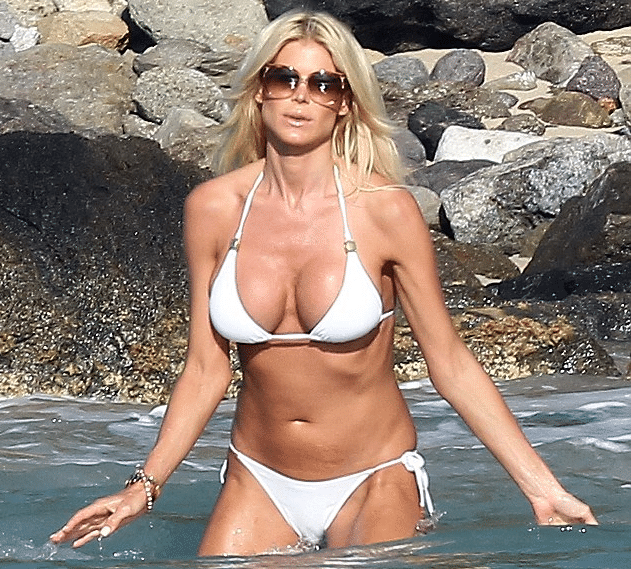 Oh dear kids, it seems everyone is off to St Barts this week except you, me and the chipmunks Fyodor and Mazeltov. Who was there though sashaying the good shit and being adorned by the sun Gods was Victoria Silvstedt, the Swedish former Playboy/high fashion model.
The gorgeous former Playboy model has spent Christmas soaking up the sun in the Caribbean, only taking a break to drop in on a party held on Simon Cowell's super yacht.
All that relaxing can be pretty stifling so yesterday the blonde bombshell took to the beach to cool down and let off some steam.
Ahh yes to cool down and to let the camera boy get to work…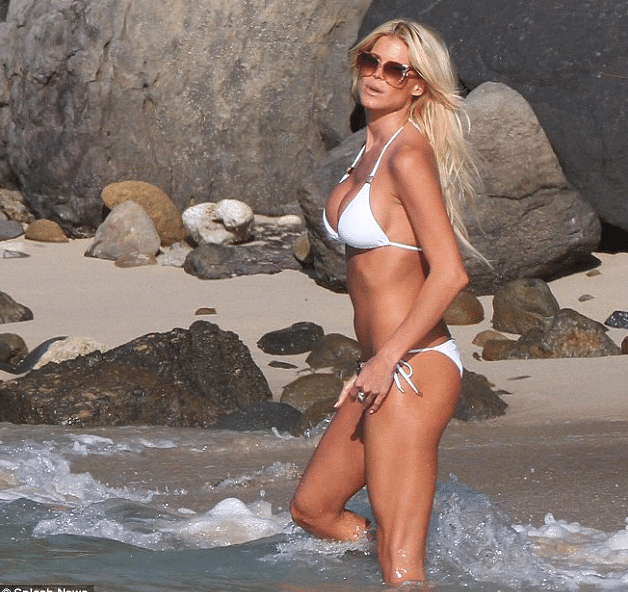 Flaunting her ample curves in her favorite white bikini, the 37-year-old Swedish model looked like she was posing while swimming in Flamand's Beach in Saint Barts. 
Posing whilst swimming? Our Victoria? Well to be fair the camera boy was taking photos…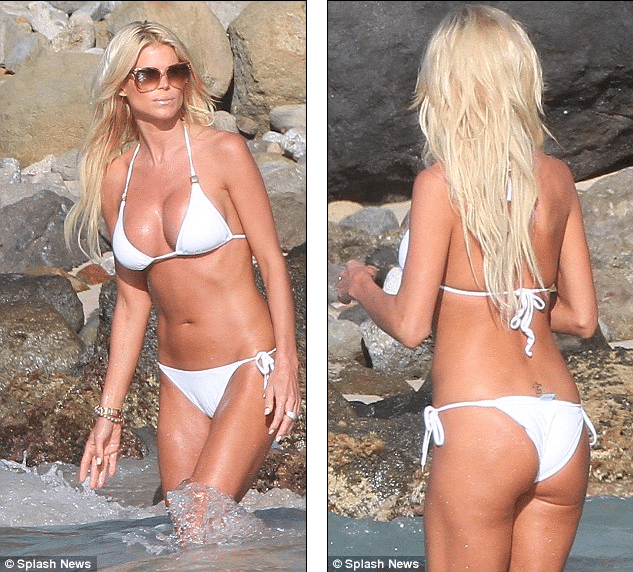 The former Miss Sweden was pictured in before Christmas at her hotel wearing a tiny orange bikini, which she covered with a sheer leopard print sarong, but since then the model has stuck to the white look which shows off her stunning tan.
And from the sounds of it Miss Silvstedt was having a great time partying with media mogul Cowell.
Media mogul Simon Cowell– cause that bixch can never get enough of healthy buxom things lap dancing on his deluxe yacht….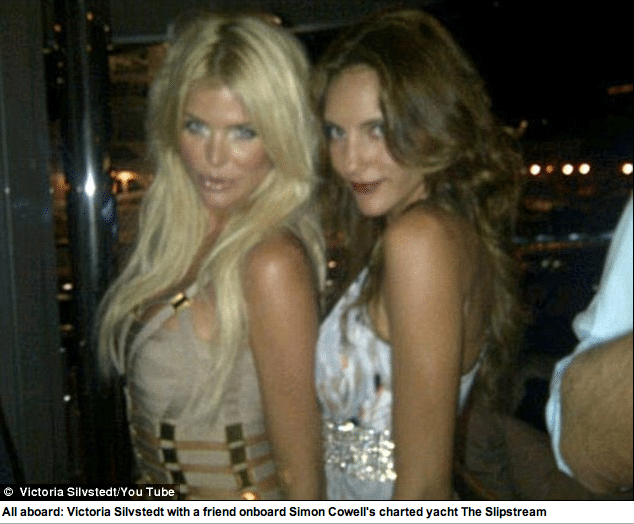 Chartering the 196ft yacht can cost between $450,000 and $900,000 a week but if like Cowell you are worth an estimated $130million, the cost of pure relaxation is a drop in the ocean.
The model tweeted a picture of herself on the boat with a friend and surprisingly she wasn't wearing a bikini but a gold dress.
$450- 900 000 a week. Isn't that like going out for a mid priced meal on the weekend?And of course one does need their gimmicks and golden carrot (ahh yes always the golden carrot) to lure them fussy hawt bixches. After all the chipmunks, Vladimir and Fyodor will refuse to travel from underneath the table unless one first drops them a slab of well matured gruyere cheese.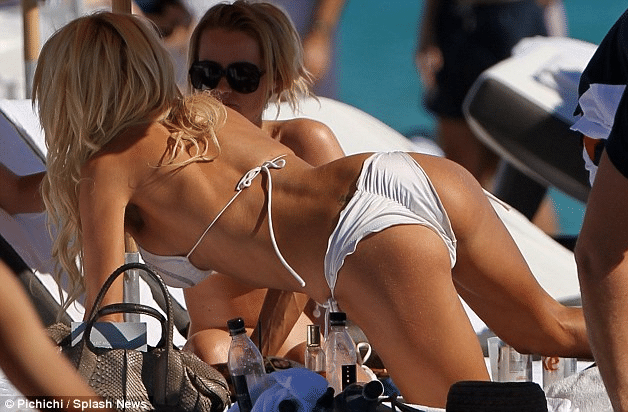 And then there's Victoria's love life to consider and what a charming one it has been at that….
…she has been linked to Pamela Anderson's ex, Tommy Lee and George Best's model son Claum Best. 
Victoria has been dating her much-shorter property developer boyfriend Maurice since 2007.
But is still married to interviewer Chris Wragge who she met in 1997, when he interviewed her for Entertainment Tonight.
The couple got engaged on Christmas Eve 1998, and were married in 2000 though they separated in 2007 but have not yet divorced.
Much shorter property developer? Oh well, at least he's bound to have a few yachts to keep Victoria happy as she struts her golden tan.
Don't you wish this winter you too were a former or preferably current runway/fashion model being chased by so many well to do suitors you had no idea what to do with them save for the ones with yachts? Unless of course you already happen to be a highly sought buxom hawt bixch with men leaping all over themselves to throw you a slab of cheese…