Kids it's time to relive the good old times. What good old times you wonder? The reinvention of Olivia Palermo as she is spotted lip singing to the tune of a paparazzo's camera.
dailymail.co.uk; She was once a city girl, but Olivia Palermo looks pretty perfect on the beach as well.
The 25-year-old socialite wowed on the beaches of St. Barts over the New Year holiday, showing off her slim figure in a colourful bandeau bikini. 
Her boyfriend of three years, model Johannes Huebl, certainly seemed to appreciate her fine form.
Appreciate her fine form and of course to egg her on as the camera boy went to work….
They smooched and held each other close after a romp in the ocean and fairly sizzled when stretched out on her pink beach towel. 
He must have adored her hot pink and orange colour-blocked bathing suit, which showed off her endless legs and toned stomach.
Endless legs? Kids last time I checked Olivia is an endless 5'4. Then again this is the dailymail, so let's forgive them for being a smidgen over excited.
She paid great attention to detail with her outfit, even making sure her nail varnish matched her beachwear. 
Given that the two were taking a holiday on St. Barts, an island often referred to as the playground of the rich and famous, Olivia did have to accessorise her outfit. 
She wore a simple gold bracelet and gold cocktail ring as her concessions to glamour.
Hmm, matching gold cocktail ring and concessions to glamour. Kids if this isn't a ploy to be resurrected by the camera boy I have no idea what is.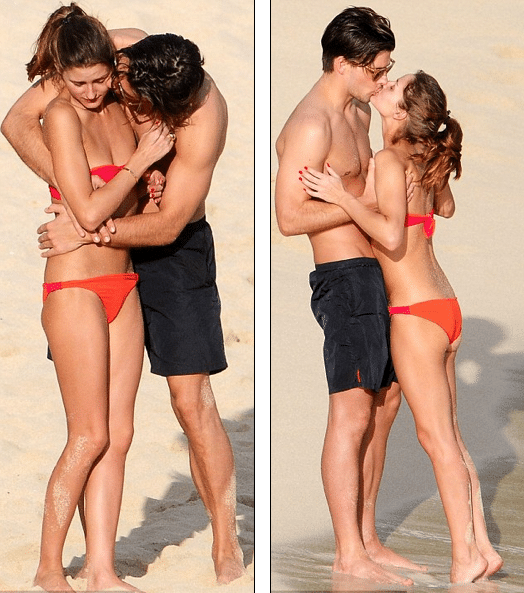 The former reality star clearly knows a thing or two about where and when to wear baubles: she launched a jewellery collection in 2010. 
In October she also launched her personal website about her adventures in travel and fashion. 
She also appeared as a guest judge last year on Britain and Ireland's Next Top Model. 
Modelling is something this young socialite knows about, as well: she was signed to the prestigious Wilhelmina Models firm in 2009.
Signed on to the prestigious racket of being an omnipresent media whore would be a more apt description, but then again that's me just taking a wild guess.
Don't you wish you were a glamorous media whore? I know I do…