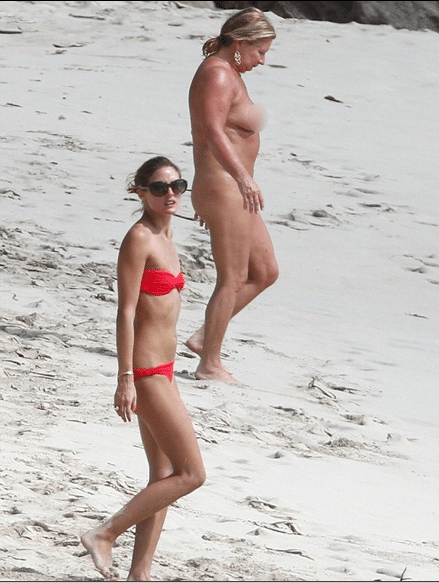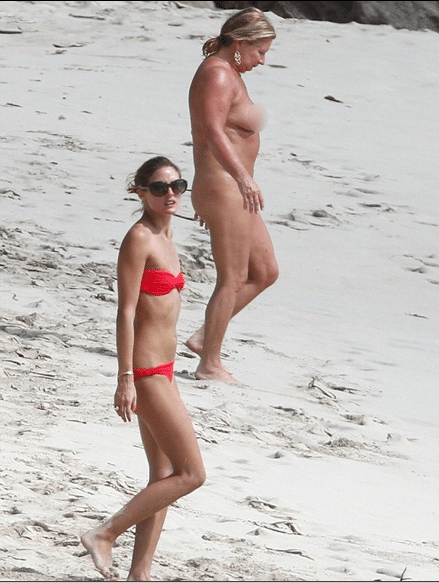 Please Olivia don't look that way! 
Ah kids, whilst yours truly is looking for paper napkins to cover himself up with for warmth (yes NYC winters are unrelenting) our collective hero Olivia 'I thought I could just sashay down to St Barts and not be noticed' Palermo is sashaying it away on the sandy beaches at St Barts. But it seems Olivia had a near brush with nudity…
Reports the dailymail (yes the scoops keep getting better kids, Olivia has made it twice this week in their tattered headlines which must mean an imminent resurrection of her career thinks me….or maybe not?):
Olivia Palermo was seen averting her eyes as a fellow sun worshipper walked past without any clothing on, during a lazy day at the beach. 
The 25-year-old appeared to look away out of politeness, but perhaps out of embarassment as the nudist made her way down to the sea.
Modest Olivia! Hmm who could've thought? Not me in a million years. Being naked in society is hardly the polite thing to do unless of course you are a German or French tourist strutting it in Birkenstock sandals.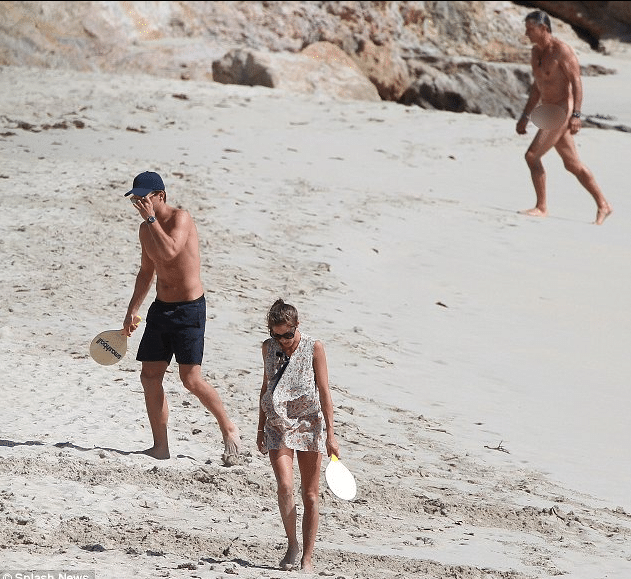 While other beach bodies were more than happy to go commando, opting out of beachwear Olivia wore her favourite red bikini. 
The skimpy two-piece is clearly a favourite – it is the second time she has worn it this week.
The second time Olivia wore her skimpy I have no ass red bikini? Really? And let me guess (sorry Olivia I am being so ridiculous this morning, drinks when you get back to hell here in NYC maybe?) yesterday's bikini was also color co-ordinated with Olivia's favorite lip gloss (bixch red) and her her favorite nail polish (bixchier red).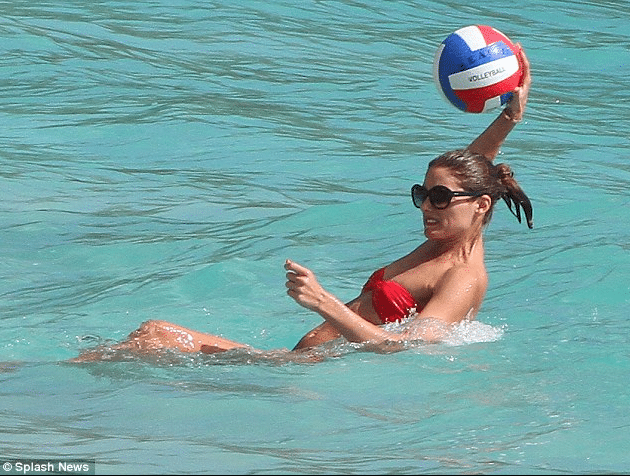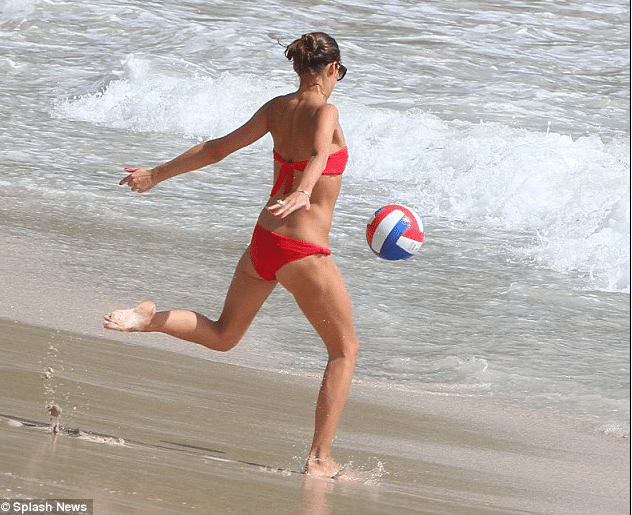 But hark, Olivia just didn't manage to go to the beach solo (hello- as if ? ) she also brought her toy boy boyfriend Johannes 'I will just look at the camera and be a pretty boy' Hueb.
As well as the tiny bikini Olivia was also seen donning a pretty floral print dress as she played a game of beach tennis with her boyfriend Johannes Hueb.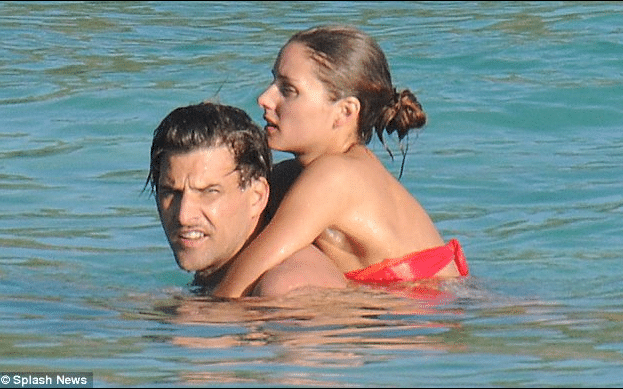 And here's where it gets a little too X rated for my tastes (well not really….)
The couple enjoyed a game of catch and kick to kick and later headed to the foreshore for beach tennis.
As well as spending time playing the sports the couple also enjoyed moments of tenderness as they indulged in a dip in the crystal clear waters.
What is this a remake of the Blue Lagoon starring media reality whore Olivia and her SPF + 30 suntanned boy toy Johannes (don't worry Johannes I'm sure I can introduce a whole block of men who would like to just sit and chat and have tea with you all day long on the proviso you turn up naked).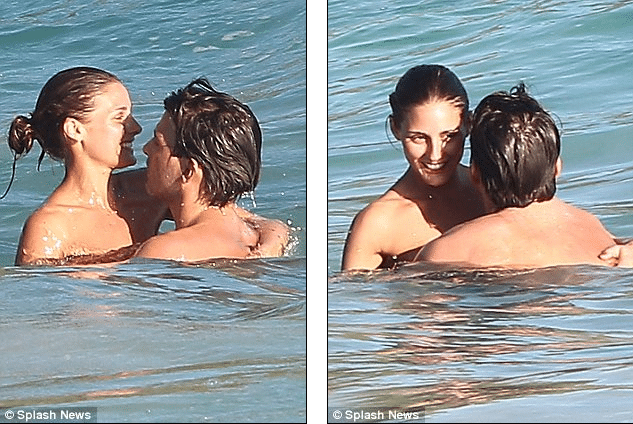 But it gets better now kids.It always gets better:
Johannes was seen laying on his back while cuddling the ball and he pulled his girlfriend close towards him. 
It wasn't just her athletic ability that Olivia was showing off during the beach session, she was also displaying her vast wardrobe.
Vast wardrobe at the beach? Hmm. I wonder why Olivia 'please please snap away so I can resurrect my fleeting career' Palermo brought along her vast wardrobe to a very hot beach? Do you have any idea kids?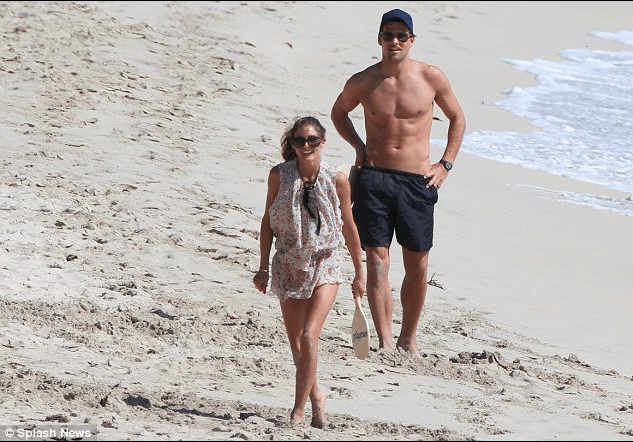 While she might have already been spotted in her favourite red bikini she donned not one but two different coverups during the day. 
As well as the pretty dress the model and socialite was seen in an orange, red and yellow wrap too. 
Olivia, who starred as Whitney Port's rival in The City, appeared equally as competitive during the friendly game, leaping to hit the ball with plenty of gusto.
Gusto? What is this? Kids do you think Olivia payed the Daily mail reporter to write this story? It is after all a bit too congratulatory no? Or maybe it's just their way of backslapping Olivia?Not that I would ever dare backslap Olivia. Not me. Never. Ever. Promise.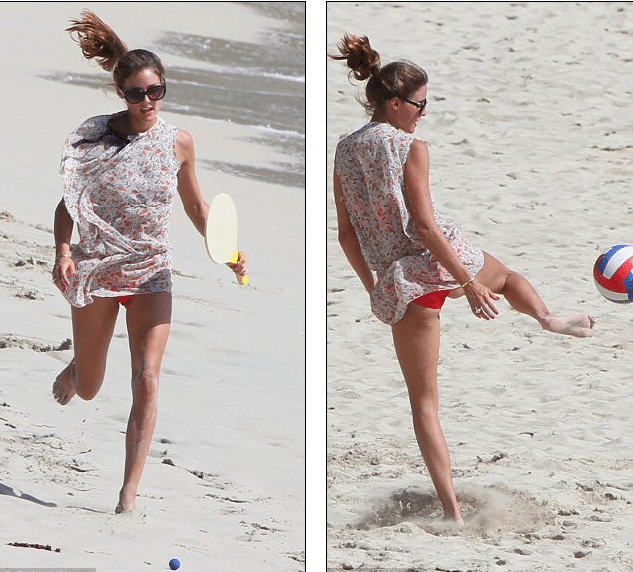 And just so we are reminded one more time how uber Olivia and her boy toy is there's this:
They are among a host of famous faces to be holidaying on the Caribbean island including Rachel Zoe, Marc Jacobs, Owen Wilson, Russell Simmons and Martha Stewart just to name a few.
Oh dear don't you wish you were a photogenic media whore making the rounds? Of course you do…