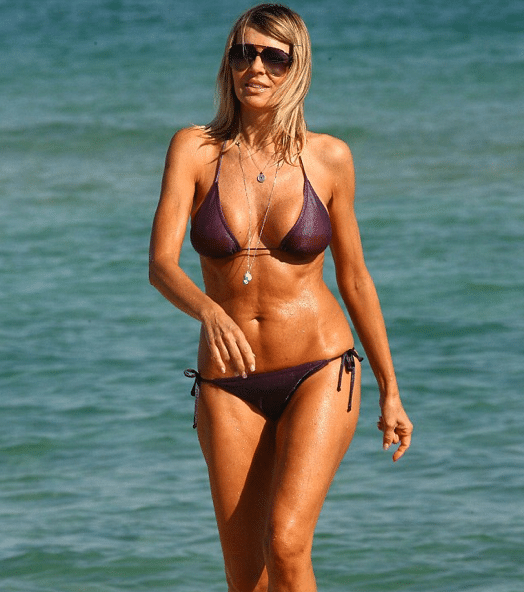 Putting girls half her age to shame is Rita Rustic's stock in trade…
Kids, I'll be honest from the get. After spending countless hours skimming the above and below pictures of Rita Rustic I found myself hallucinating, impaling myself with dangerous thoughts and quietly running to the bedroom at the dawn of death to bring back a spare box of tissue paper if you know what I mean. Then again that's just me getting through a sleepless night as a lovelorn newcomer to the visage of Rita Rustic.
Things aside if Rita was here in front of me I'm pretty sure she'd laugh, slowly wipe the cheshire grin off her face and offer me a Rita scented tissue paper and whisper into my ear- 'wipe my bikini juices off carefully Scallywag.'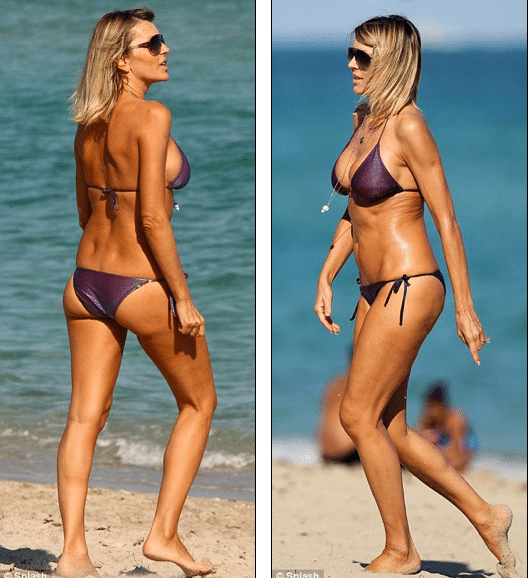 Fantasies aside, Rita Rustic's latest offerings to the things most of you don't have a flying hell in chance in achieving this morning include her stellar physique.
Confused? Don't be. Let's put out our collective shiny reading glasses and have the dailymail explain for us how RIta Rustic managed to become this morning's preferred hawt bixch:
dailymail.co.uk: She might be more than fifty-years-old but Rita Rusic's figure puts stars half her age to shame. 
The Italian movie producer showed off her fantastic, and apparently age-defying shape as enjoyed a day at the beach in Miami today. 
The glamorous 51-year-old hand donned a tiny purple bikini which would fail to flatter most figures, but it simply highlighted her superb shape.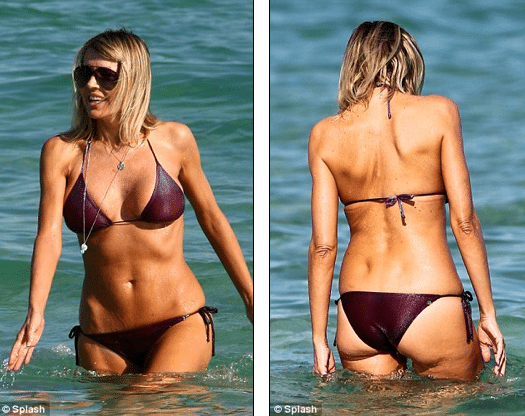 Yowza kids. Rita at the age of 51 has more dangerous curves than a quartet of young beauties half her age promising to devote eternity to exhausting daily routine of starving themselves, Pilates and self willing their bodies into submitted perfection.
The outgoing Italian – Croatian has spent the last few days flaunting her amazingly toned body.
Yesterday the movie producer was wearing a tiny white bikini that had an embroidered star fish design on the upper half of the two piece.
Today it was the turn of a grape red bikini which Rita accessorised with two necklaces.
Isn't it charming to know Rita even takes such concerted efforts to color co-ordinate herself in front of the roaming camera boys?
And then there's Rita's toyboy boyfriend. The grin on his face tells a languid story of lust, for all to see.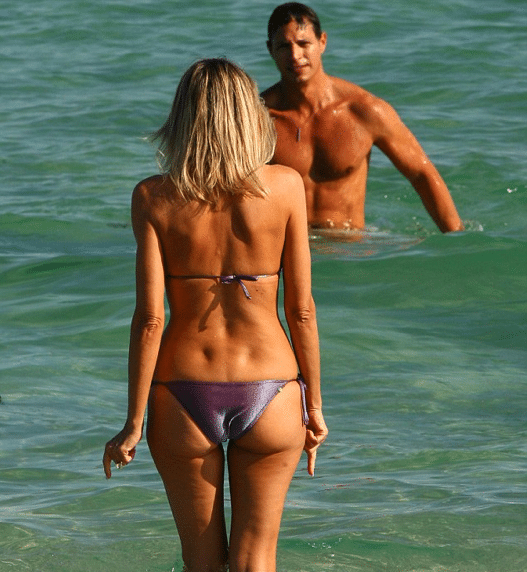 Reiterates the dailymail whom have been quite busy lately scooping up as many hawt bixches on their pages as possible:
In recent years she has garnered fame in both her native Croatia and Italy for her great bikini body.
She is also a singer and has one daughter called Vittoria and a son named Mario.
Her creative talent is also evident in a book she wrote and had published in May 2008 called Sex Jet sentimental erotic diary.
Sex Jet sentimental erotic diary? Hmm, why do I get the impression that this has suddenly become your next must have arm chair reading book…? If only you could be half as good looking and fabulous as Rita? Maybe in another lifetime bixches…