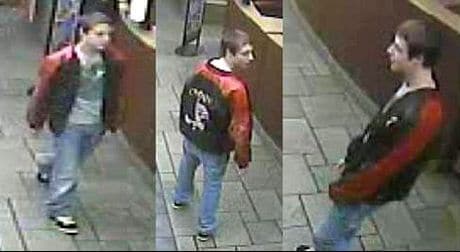 Update: Deputies say a 13-year-old Clermont County boy is in custody, charged with one count of rape.  Deputies say the boy's parents brought him to the sheriff's department today after deputies circulated surveillance photos of him yesterday. Deputies say the boy admitted to the facts in the allegation.  
How would you like your french fries with your rape madam?
It just could all be a coincidence but one has to wonder what it is about the allure of McDonald establishments and other fast food establishments that of late has facilitated some very troubling behavior courtesy of customers and now even workers. Is it the antipathy that one feels about fast food vendors, the resigned indifference that comes with attending outlets that cater to millions of customers in a cookie cutter way or is just the perfect non descript environment that allows people to act in a way that they would be loath to behave in at more auspicious venues. Or is it simply a situation that outlets like McDonald's facilitate through oversight or negligence the terrible behavior that goes on ad hoc at such establishments?
Which brings the latest casualty to our attention of a 5-year-old girl who was allegedly raped by what authorities say is a 13-year-old boy in the playgrounds of one McDonald's store in Anderson Township, Ohio.
lipstickalley: According to the Hamilton County Sheriff's Office's incident report, the assault occurred about 8:30 p.m. on Oct. 29 in the Playland of the McDonald's in the 7600 block of Beechmont Avenue.
The victim's grandmother told deputies that as the Playland was closing the girl had a "look on her face like something was wrong."
The girl told her grandmother that a boy digitally penetrated her vagina and that she was forced to digitally penetrate his anus, according to the incident report.
The grandmother told deputies she saw a boy around 13 to 15 years old leave the play area, but before she could comprehend what had happened, the boy was gone.
Digitally penetrate her vagina, digitally penetrate his anus? What are we not understanding about this situation?What could motivate a young man to violate such a minor? And yet now authorities admit they're not even sure if it's a teenager that they are looking for:
The incident report described the assailant as white, 12 to 15 years old, about 120 to 130 pounds, with black hair and blue eyes. He was wearing light blue jeans, a gray long-sleeve T-shirt and a jacket.
Despite the description, deputies said they aren't sure the person they're looking for is a teenager.Deputies released photos Wednesday of a person wanted for questioning in the case. The images were taken by some of the 16 surveillance cameras inside the restaurant and play area, deputies said.
Aware of what is at stake (and one assumes of other snafus at other McDonald's outlets), the franchise' owner, Judson Pickard released the following press release:
"The safety and well-being of my customers, especially children, is extremely important. I'm taking this matter very seriously and fully cooperating with authorities in their investigation."
Should that read the safety of my ongoing business necessitates that I handle this situation with aplomb and with absolute media finesse as possible lest people stop coming to my venue? Shouldn't we already think that by coming to any venue, even a fast food that an outlet always has the best regard of its customers at mind? And if so, could the outlet have done more to make sure a supervisor was aware that unsupervised children were playing in its outlet or even had one stationed there? Yet then its defense where were the girl's parents or guardians?
Anyone with information about the incident was asked to call Detective Mark Bohan with the Hamilton County Sheriff's Office Criminal Investigation Section at 513-851-6000 or Crimestoppers at 513-352-3040.