First of let me say from the outset I first laid eyes on Elle Macpherson as a university student back in Sydney, Australia at one of those opaque warehouse dance parties that were popular back in the mid late 80's and even then I knew there was something extraordinary about her. My hunch was only later validated when I returned home later that morning to see the girl that I had been ogling all night sashaying along Bondi Beach with a frost bitten can of diet Coca Cola on my tv set.
Since then Australia's very fashionable hero (but then again define hero?) and personality has gone on to mesmerizing heights. That said the woman colloquially known as the 'body' and for good reason has come out in a rather revealing interview with the UK's Telegraph to market the bejesus about her next campaign talk about topics that for now were kept well under wraps.
Elle Macpherson leans thoughtfully forward and reaches for her breasts. She's deploying them to illustrate why Intimates, her extremely successful international lingerie brand, has yet to penetrate fashion's most lucrative new frontier. "China," she says, "hasn't been opened yet because the women have a different body shape; the position of the nipples, the position of the breasts…
Hmm, sounds like a woman who knows what she wants. Never mind taunting the attention of the love struck journalist interviewing her.( No wonder she prefers to be interviewed by male journalists: we're easily stupefied.)
Then again, Elle is on to something, the shape, size, height of women varies from woman to woman and if you're going to extend your brand, a bit of research and market optimization goes a long way, of course that's not to discount the 'body's' stellar reputation and name sake that makes opening a lingerie line in China a no brainer. Or does it? A former model like any working model has got to figure out how to capitalize her exposure whilst the magazine's and brands that use their images maximize their bottom lines.
Macpherson insists that the financial revelation that struck in her early-to-mid twenties was her own, unprompted by some agent, or her older first husband, Gilles Bensimon, the photographer and former creative director of French Elle who she married when she was 21 and he was 42. It came, she says, after "working for Sports Illustrated for so many years, and recognising that working for a business in which I did not have a profit share was not attractive".
As an ex model myself (yes male models are a dime a dozen these days…but probably a rarity back in the late 80's/early 90's) I can testify to the stupefying fact of working for a high stakes editorial concern and coming home with a paltry check which would then have to be shared with my modeling agent. So then how does a model, as in Elle's case take advantage of her fanfare and parlay the exposure she's receiving into a fatter bank account. After all owning one's images as opposed to being rented out has always been a more lucrative option, assuming you can fathom the ups and downs of starting your own business. Then again how hard can it be to parlay your namesake into your own lingerie line when you have appeared on the cover of Sport's Illustrated no less than 5 times. Never mind having once been married to fame fashion photographer Gilles Bensimon who could make a model just by looking at her (hmm, seems Elle worked way in very well…).
And then one day Elle got really clever…
So when Sports Illustrated asked her to be in a book, she would ask them precisely that question – why? – until they agreed to give her a royalty or donate a cut to charity. When she appeared naked in the film Sirens (opposite Hugh Grant, who played an erotically stupefied vicar), she says the press commenced a fevered hunt for nude pictures, pursuing ex-boyfriends and photographers. Instead of battening down the hatches, recalls Macpherson: "I said, 'OK, you want naked? I'll give you naked – but on my terms.'" She phoned the photographer Herb Ritts, who agreed to shoot her in the altogether. The ensuing pictures starred on several pages and the cover of Playboy – and Macpherson bought her mother a house with the proceeds.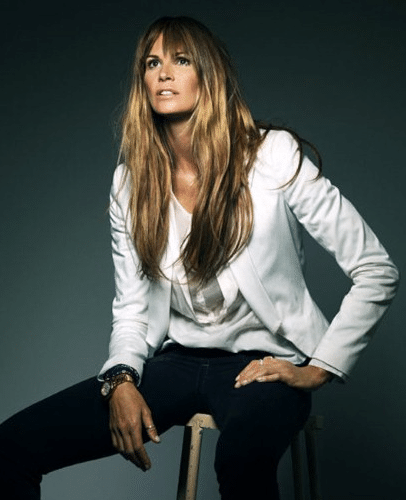 Which could be what models of stature were waiting for, someone with Elle's status to set the standards (not the other way round thank you) of joining in for the lucrative ride. Since then supermodels the world over insist on heavy fees for endorsements, a percentage of royalties and even lending their name for perfume launches as supermodel Kate Moss has.
And when a company proposed she put her name to a swimwear line, she riposted that lingerie interested her more (she learnt to love it while living in Paris, and reckoned it could sell all year, not just during the summer). Elle Macpherson Intimates has now been in business for 21 years, and she calls the head office Down Under every morning at 8.30am, en route from school run to gym, for a spot of rigorous micromanagement.
And who said models were stupid? Savvy and calculating would be more like it, but then again why shouldn't they be? Even one of this author's closest female friends, a former top model, Marla Singh has gone on to create her own leather handbag line, marlafiji in the Aussie market to great acclaim. But it was only a matter of time before top models started banking on their image.
It was, she adds, "an understanding that to create my future, I needed something more tangible than compliments on the way I looked".
What a beguiling idea that a model like so many other artists, entertainers can now finally take stock and license in not only what comes out in the press and the pages of various magazines but in their own namesake. It'll be interesting to see how Ms Macpherson tailors her new lingerie line for the Chinese market, but one senses she's more than halfway there…