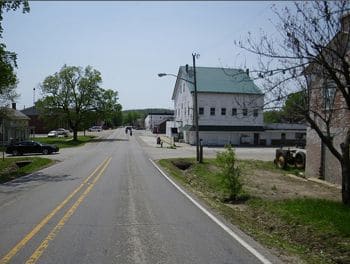 This is a story for Truman Capote.
A woman was driving in Laurel, Indiana, quite a rural community 50 miles southeast from Indianapolis, when she saw a young half naked girl by herself walking in the middle of the road.  She called the police; the police took the girl back to her home.  There, they found four dead bodies, some of them shot to death.  Next door, they found a fifth body.
Police are releasing little details, AP reports—four of the five autopsies have been completed so far, and authorities are not releasing the identities of the five—but the town seems rife with suspicion and fear. Teresa Richardson told reporters that one of the victims was her sister, Angie Napier, who was visiting her estranged husband, Roy, as well as her adult children who lived with Roy, Melissa and Jacob Napier.  Henry Smith, the neighbor at the wrong place at the wrong time, left Sunday to visit the family and never returned, according to his mother.
People are locking their doors for the first time; and while Sgt. Jerry Goodin says there are plans for a manhunt at this point, he would not confirm if the shooter was one of the five, either.
The violence does not seem to be necessarily senseless, according to the townspeople.  That is to say, most believe there was a motive: drugs.  Debra Richardson, who runs a greenhouse down the street from the Napier home, says she complained to police often that there was drug dealing going on in the neighborhood.  The mobile home the Napiers lived in got way more traffic than her business.  Teresa Richardson blamed drugs, as well.
How a dispute over drugs turns into a massacre of a family, who is ever to say?  Whenever drugs are thrown into a violent incident, that little detail becomes the unequivocal reason why these people were murdered.  Drugs distance the victims from the bystanders, as if to say, if you do not do drugs (or if you keep your family away from drugs), you will never end up dead. It is a rather comforting myth within a disturbing story.  Without that detail, or without any suspicion of a motive that people can latch on to, the message becomes: anyone or any family could end up dead, no matter what they're doing.  Violence is cruel and senseless and uncalled for.  When drugs come into play, somehow, someway, somebody's asking for it.
So it's interesting that  AP publishes a story with such angle on drugs.  The police are not confirming at all whether drugs were involved.  But I suppose it works to dissociate ourselves away from this family, to let us rest easier, thinking this could never happen to us.  After all, this is a town where gun shots go unnoticed, where people just assume it's cattle being shot, not people.  Most of the public is far removed from that sort of life.  Yet I could think of many places where shots go unnoticed, New York City or any metropolis being only one of them.
Maybe, then, what happened to that family, to that little girl, could happen to us.   But who wants to read that sort of fear-mongering news?  I suppose, at the end of the day, it's prettier to think that all this senseless violence is all due to drugs.  There, now I can rest easy.