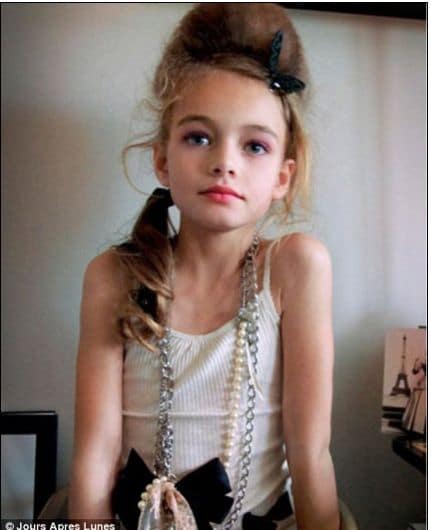 It may be one thing to exploit the visage of a nubile young women for the sake of a marketing campaign but when fashion houses begin to make the conscious decision of using girls as young as four to ten in sexually charged themes  it might be time for our society to sit up and notice what exactly is going on here?
With the recent catapulting of 10 year old Thylane Loubry Blondeau into the fashion stakes, the fashion world was put on notice that not everyone was exactly beguiled by the visage of women as young as Thylane appropriating themes, suggestions and poses that sometimes make girls double her age blush.
But this is fashion was the common argument, and what harm could come of glorifying a beautiful young girl into the public consciousness? It had been done after all with Brooke Shields when she was a young girl and it seemed it was time to re appropriate the trend. After all that is what fashion did- is take old ideas and make them new again.
That said, it seems we are back in morally treacherous waters again with the recent adaptation of one French lingerie line, Jours Apres Lunes geared to young girls. Young girls in lingerie you wonder? Does that even comprehend? Sure who doesn't like dressing up and trying to look like an adult when you're a kid? But how many of you recall running around in flimsy satin sheaths in the school playground when you were kids?
And what exactly are we teaching young women to value and how to value themselves and essentially isn't this debasing women by implicitly suggesting their self worth is contingent on their ability to pull off a lingerie set, at the age of 9? Forgive the question, but do girls even have breasts to show when they are 9?
After all there was a time that most of us were glad just to be children, as opposed to being forced a menu that could only metaphorically suit the palette of an adult and rightly so. So rather than pushing new products and gimmicks onto untried markets, perhaps it would be prudent to have some degree of decorum by letting a child be just that as opposed to an overt wet paedophile dream. But then again, if you were ever into kid porn or even slightly curious by the notion of it, perhaps Jours Apres Lunes might be your cup of tea?
See the images below and ask yourself what your reaction would be if your 8 or 9 year old began to stroll up in that outfit next Sunday morning…