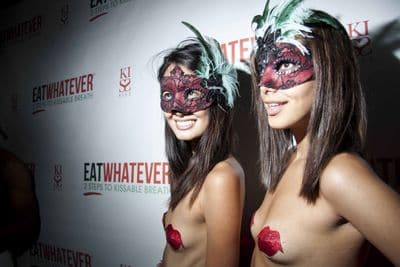 A kissable launch of breath freshener EATWHATEVER, hosted by Jacqui Rosshandler, Arthur Shorin and Patrick Mcmullan took place this past Wednesday, at the Museum of Sex. Celebrating Patrick's 2006 published book Kiss Kiss was an array of beautiful A-Listers, fashion and social media entrepreneurs.
Accompanying his photographer and the nude models, clad in nothing but underwear stating 'breath' and 'whatever'—the exhibits filling the Museum complemented the Kiss Kiss's intimate content. Museum television screens depicted a variation of social issues covered involving sex, for example: Sexploitation, sex acts and porn industry.
With over 1000 photographs that chronicle kissing of all kinds, Patrick's book focuses on the most intimate, remarkable gesture. Featuring celebrities like Jennifer Lopez, Katie Holmes, Uma Thurman and Paris Hilton—among dozens more—the author signed copies and pointed to a future rich with several more photographic albums.
Photos continue onto next page. To see Kathrin's other work go here: http://www.kathrinbaumbach.com