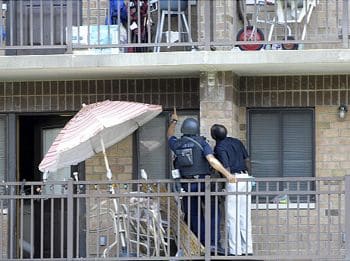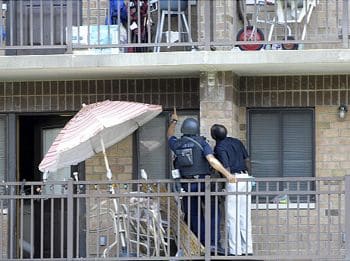 Neighbors looked on while Frederick Mendez, a pilot, and Terenace Williams, a nurse, bickered on their balcony.  Mendez and Williams were no George and Martha, though; they had a history of fighting, but this one—Mendez wanted to have sex; Williams didn't– proved fatal.
New York Daily News: "When the argument started, everyone came outside," said neighbor Tommy Brown, 38. "She didn't want to have sex, she didn't want to sleep with him. That's what they were arguing about."
Cops arrived to find Mendez stabbing Williams and attempting to throw her off their third-floor apartment balcony on Needham Ave. in the Bronx, police said.
"He had her by a headlock and kept stabbing her," said neighbor Oscar Brinson, 47. "A woman kept saying, 'Let her go!' and he screamed, 'No, she ruined my life!'"
Ruined his life?  How is Mendez able to respond to his neighbors at this point? Never mind in the process of stabbing her his ruing hers. Or to be exact, extinguishing it.
A cop fired at Mendez, hitting him two or three times, police sources said. Mendez screamed in pain and retreated into the apartment, locking himself inside.
It took three hours of cajoling Mendez to surrender before he was brought in to hospital, Jacobi Medical Center. Williams on the other hand, the woman he had been demanding sex from, could not be saved.
It is telling of society when a man will murder his girlfriend after he's been rejected.  Lose a bit of control, maniacally stab someone.  A woman has a right to say no.  For that matter, so does a man. Until we all understand this, incidents like this will continue to happen.