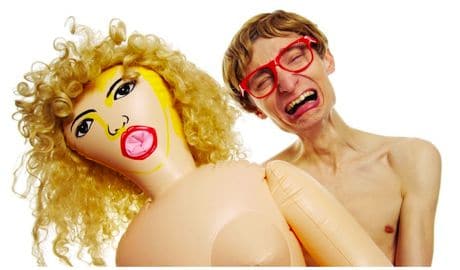 Isn't it time you acted out your fantasy in the privacy of your own home now that you have no money to go out?
Here's an interesting corollary. Americans according to one CNBC story spend more money on getting off with an imaginary partner than a live one. $15 billion more. Makes sense, because every time I've ever tried to seduce some nubile princess I'm always wondering how I managed to blow $108 for 2 cheese burgers and 4 rounds of magic martini's and be left with nothing than a curt handshake and an unfulfilled hard on a polite let's catch up soon kiss goodnight.
But that's me. Actually that's most men. So what to do when life and your bank account goes down the gurgler? Easy – improvise and how…
cnbc: It used to be that sex toys were only sold in specialty stores, but the shift to online purchasing has also boosted sales due to a key ingredient: anonymity. "People no longer have to drive to the porn store and make a face-to-face purchase," Dallakian said. "Online ordering with discreet shipping saves you the embarrassment of exposing your kinks to strangers, and there's absolutely zero risk of running into somebody you know while shopping." As an added bonus to discreet shopping, ordering online is often cheaper and offers a wider selection of products.
Kids, personally I prefer buying my sex toy at the store. And I have no shame in asking the store bixch whether x will fit in y and other things sure to make even a seasoned hand job valley girl giggle and reach for some glitter lip gloss (is that shit a sex toy too?).
While there are numerous offerings for a thrill on a budget ("sex toys are like shoes: there are lots for men, tons for women and a handful for both," Dallakian said), customers with bigger wallets can find toys at higher price points as well. One such product, which Dallakian calls "the Bentley of vibrators at the price of a well-equipped Hyundai," uses medical grade silicone in its premium design. Made by a Swedish company, the toy, which is worth several hundred dollars, can now be purchased online for $125.
State of the art vibrators? Ladies, you have a flotilla of men begging you to jump woo you and you're buying Swedish Bentley's? Or maybe that's just the men buying them…ahem.
Shouldn't you be primping your blow up doll right about now gentlemen…?