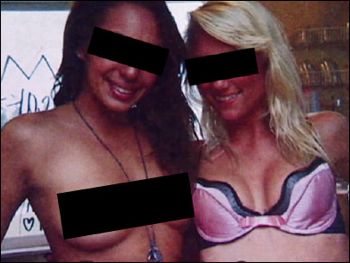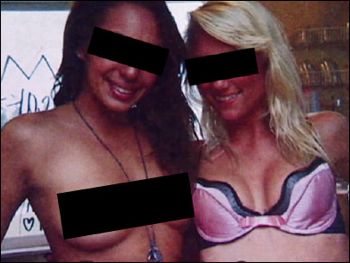 Java Juggs owner had sex with cop who promoted prostitution.
It's time to watch a police home video of Java Juggs baristas cuddling their breasts in your face.
The place was called Java Juggs.  Their slogan was, "Some Like It Hot."  What do you expect?
Charges have been brought down on the owner of a Grab N' Go coffee stand in Edmonds, Washington, near Seattle, as well as three employees.   After 40 people complained to police that the girls working at Java Juggs were exposing themselves to customers—for as little as $10 or $20, I might add—Edmonds police set up a nine-month sting operation to investigate.
KOMO News: "It was really, from what I understand, quite simple," says Sgt. Don Anderson of the Edmonds police. "It wasn't a great deal of effort in getting these girls to expose themselves."
These busty girls were just asking to get busted.
During a recent sting, undercover police officers took 17 photos that allegedly captured the five baristas at the Grab 'N Go Espresso Stand serving up more than steamy lattes. KOMO News obtained the photos after arguing in court for their release.
Most of the photos are too explicit to show online, with one of the baristas allegedy exposing her crotch in a photo taken by police.
Why exactly KOMO News pleaded for these photos notwithstanding, before you think that this a case of girls gone wild, consider the involvement of the Java Jugg's madame:
The investigation also revealed that the owner of the business, a 49-year-old Snohomish woman who owns three Java Juggs espresso stands in Edmonds and South Everett, was also involved in these activities, police said.
She was arrested June 30 for investigation of three counts of prostitution and one count of permitting prostitution.
So the boss encouraged the girls to wear bikinis and flash the patrons, or at least turned a blind eye.  Apparently, sexpresso stands are a growing trend around Seattle.  We have to ask: is the coffee competition so tough in Seattle that baristas have to resort to whipped cream bikinis to make a profit?
Sex sells, but who knew it went so well with coffee?