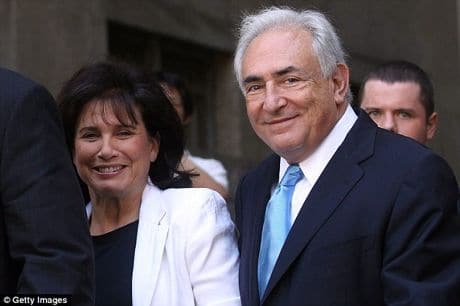 It seems the case of Dominique Strauss-Kahn, the once powerful IMF chief and possible contender of the French presidency has taken another scandalous turn, but for Mr Kahn's sake it seems to have take a turn for the better.
With Mr Khan this morning being handed his freedom without bail (the charges of rape for the time being still stand) and on his own recognizance pursuant to serious questions of the integrity of his accuser, a hotel maid, the question arises how did we arrive at this point when a man was so eagerly brought to justice and stripped of his presumed innocence and had his reputation sullied has now suddenly become the vanquished soul?
At play are the questions was it a case of the law just trying to show us until it supposedly tripped up how wonderfully efficient it is or a case of some behind the scene machinations aimed at discrediting the former IMF chief and burying this man out to pasture?
As it stands there are intimations that it may be the latter, but that may not necessarily deflect attention on the notion despite a complicit political campaign against Mr Strauss Kahn that at the end of the day he is a player. What type of player and how he necessarily plays the game has yet to be shoen, but it is sure to raise questions as to how much is at stake within the Machiavellian pursuit of international politics and those who excel in such ventures…
guardian: In extraordinary scenes outside a Manhattan courtroom, the lawyer for Dominique Strauss-Kahn's alleged victim promised the maid would take her cause to the press amid fears that prosecutors might be preparing to drop the case.
Strauss-Kahn, the former head of the International Monetary Fund, was freed from house arrest and had his bail dropped, as it emerged that investigators had discovered his accuser, a 32-year-old Guinean-born maid, had lied about a previous rape claim.
What makes this all the more intriguing is that prosecutors have always held that they had a strong case against Mr Strauss-Kahn (after his semen was found on the maids dress and other Sofitel hotel employees were Mr Strauss-Kahn stayed came forward alleging that they too had  been subjected to unwanted sexual overtures) but now given the recent revelations that the maid in question has herself questionable antics to answer for the appetite to take on Mr Strauss-Kahn it seems has waned.
nydailynews: The Bronx chambermaid's credibility crumbled as investigators linked her to a network of crooks and found that she had multiple bank accounts stuffed with a total of almost $100,000 in dirty cash, sources said Thursday night.
Prosecutors now believe there was little truth in anything the native of Guinea native told them since the NYPD yanked the one-time contender for the French presidency off a plane at Kennedy Airport on May 14, the sources said.
A horde of media joined the simply curious outside the courthouse where Strauss-Kahn was due at 11:30 a.m.
"I hope he will not be guilty for the image of France," said French tourist Jean Mark Beauchet, 62. "It changed the political scenario in France. He would have won the election."
As indecorous as the above allegations are, could one dare wonder that certain backroom dealings were made to now get Mr Strauss-Khan out of the hot box in exchange for certain pledges from other unknown players? Is it simply enough to say that if the chamber maid in question doesn't acquiesce the clean cut image of what a sexually ransacked victim ought to look like or behave that in some way she doesn't qualify to the title of rape victim? Shouldn't justice still be manifested? Or is justice just a misnomer we like to use in public where the real 'justice' is handed out behind closed boudoirs?
And from the New York Times: The housekeeper admitted to prosecutors that she lied about what happened after the episode on the 28th floor of the hotel. She had