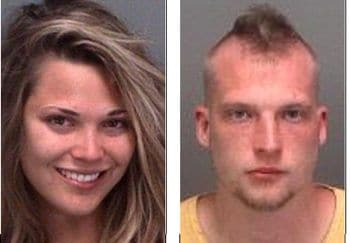 Tonight's prix fix menu comes with 2 illicit tasty morsels…
It seems customers at Caddy's restaurant off Treasure Island, Florida were offered a rather special treat recently as one young couple were getting to 'viscerally' know each other.
The couple, 21 year old Erica Huerte, and 22 year old Steven Douglas were later charged with one count of lewd and lascivious exhibition (we bet) after engaging up to half an hour in various intimate sex acts. All this within 100 feet within proximity to the restaurant.
Of course what made the ardent display of affection somewhat tenuous was the fact that there were 5 children crying playing nearby.
According to the Daily Mail (whom seem to specialize in such mesmerizing features…oh well) the couple had been drinking heavily before beginning to kiss and fondle each other, and then taking each others clothes off.
Kids, let's be honest, I'm going to have to go out for a second and powder due to the sheer fact even I can't stop blushing.
Continuing…
What does make this tale circumspect and disparaging is that Douglas was released the next day after posting a $10 000 bail while Huerta still remained in custody in lieu of her considerably smaller bail of $2500, which makes this author wonder why the male in this instance was asked to carry the heavier burden?
Don't you wish you could still find the energy to frolic on the beach once in a while too?