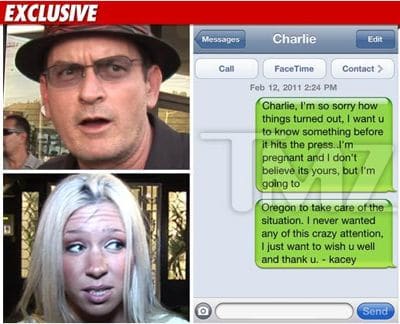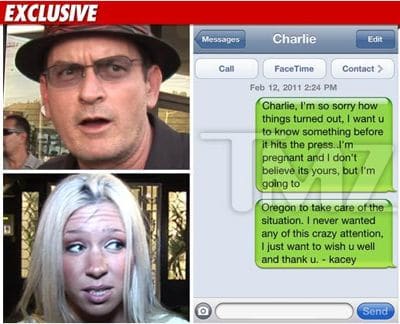 Love is definitely in the air?
Kids, I don't know about you, but I smell the pitter patter of a new porn love child making its way into Hollywood. How did it happen? Take a fistful of money, a suitcase of blow and a spare crack pipe and presto you too can have a super stud star's love child.
tmz: TMZ obtained the text message Kacey sent Charlie yesterday afternoon (see above). After dropping the bomb — which must've floored Charlie — Kacey continued, "I don't believe it's yours, but I'm going to Oregon to take care of the situation." 
As for why Kacey thinks Charlie is in the clear … he used protection, but Kacey says both of them were so out of it she's not sure if it did the trick.
According to our sources, Kacey plans to terminate the pregnancy in the next few days.
Please Kacey, don't do it.  CoCo needs you to preserve that child so he can forever remind himself of his indiscretions and make you all part of the harem.
One day deep in the future when Coco is lighting up whatever turns him on he will think to himself 'if only he could have had a memento of that amazing year where he went to hell and back and once again back. But then again, Kacey has a bright career ahead of her, why bring herself down with an inconvenient situation, unless of course it proved to be financially convenient.