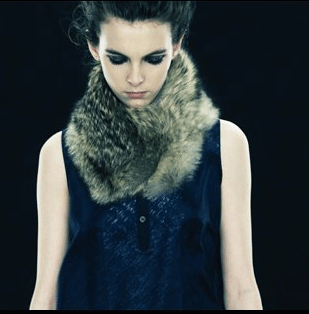 Amidst a dimly-lit Chelsea warehouse stood twelve magnificently still models, gracefully poised on individual pedestals, adorned with ready-to-wear pieces from the Black Label collection by Paula Gerbase, designing for the classic outerwear and sportswear specialists Woolrich John Rich & Brothers. Mimosa-sipping fashionistas weaved between the pedestals and the black velvet-draped perimeter, for a close encounter with Gerbase's take on classic autumn staples. As the percussion-heavy indy-rock drowned out surrounding conversations and the spotlights glared precisely on each model-equin, viewers were presented with a visual hommagery to 19thcentury sportswear, reconstructed with the woman in mind.  
Shades of grey and navy dominated the collection with rich creams making periodic appearances alongside accents of browns and blacks. With a focus on outerwear, Gerbase stayed true to the aesthetic essentials of classic masculine hunting & fishing apparel, but reconstructed them with the necessary subtleties suitable only for a lady. A thick wool coat with a large grey and white check pattern, which graduated into a solid grey by the time the jacket grazed the model's knee and Navy heavy flannel blazer with hunting pockets topped could slide easily into any closet as one's fall stay-warm staple.  
Aligning with the loose & layered trend currently ruling the runways, Garbase included several soft and simple pieces to offset the tailored ruggedness of her outerwear. Variations of navy dresses in both solid and patterned silk paired with the long wool cashmere cardigans  draped perfectly beneath heavy coats, allowing for grace under rough exterior.