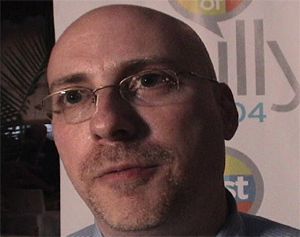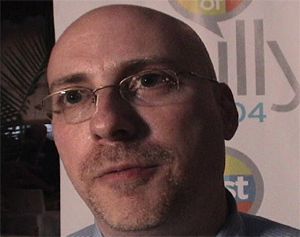 Making it in this increasingly cutthroat news business surely takes balls, but sometimes one can take it too far – just ask former Philadelphia magazine editor Larry Platt, who has been, ahem, sacked for giving a framed photo of of his recently removed testicle to a female staffer. (Imagine what we'd be saying had it still been attached…) 
Gawker managed to procure an email in which, according to Maureen O'Connor, "Platt makes a questionable joke about a black woman, then instructs the assistant to forward his testicle pictures to 'the ball girls,' a group of five current and former staffers. 
    From: Larry Platt <[redacted]@phillymag.com>
    Date: Fri, 12 Mar 2010 15:33:56 -0500
    To: <[redacted]@phillymag.com>
    Subject: Fw: Spermatocelectomy success 
    Hey — in recovery. All went well. Can you send the attached to the ball
    girls? More TK
    Btw, had a fat black nurse named monique
    Congratulated her on her oscar 
Oh the joy of being loaded up on morphine. But was it just the drugs speaking, or had Platt, no longer just content with reporting on the more newsy spectacles of our time, decided to become one himself? Still, his motivations matter little as either way it's happened. 
Consider that since his much gossiped about firing, Platt has been hired to lead the Philadelphia Daily News, to smutty glory. Said his new boss, Gregory J. Osberg, to the Philadelphia Inquirer: "[Platt] is extremely well-suited to begin the transformation of the Daily News into a loud, irreverent, and fun tabloid."  
Well on its way, indeed, considering that, as said Pulitzer Prize winner, Wendy Ruderman noted of America's new favorite severed testicle flasher, "He knows a good story." And apparently so does Osberg, who's just netted his newly renovated tabloid free advertising in the very headlines of all its major competitors.  
Talk about cost-effective targeted marketing to one's key demographic. Isn't this, quite appropriately, the kind of publicity for which many media whores would give their left nut? Maybe we should, well, cut the guy a little slack.