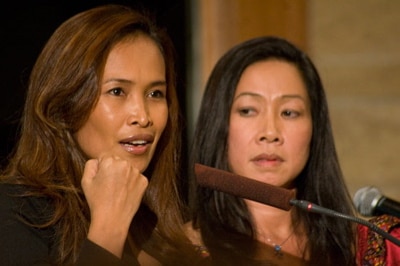 Number 7-Somaly Mam
Somaly is a true renegade and hands down the bravest person on this list. Born in Cambodia and sold into the sex trade as a child, Somaly eventually escaped but unlike most of the other girls who lose themselves after such a horrific experience, Somaly channeled that terror into strength and now commits her life to helping other girls caught in the sex trade, already rescuing over 6,000 girls in Southeast Asia alone.
Somaly doesn't just send someone out to rescue these girls, she herself is hands on doing the work and also makes it a top priority to continue relationships with all of the girls she encounters, many of them even referring to her as "mother." I was so touched by Somaly's hands-on work with her charity, I decided that I would re-visit Cambodia this summer and meet the girls she has rescued firsthand. Somaly has graciously allowed me see a part of her world that would disturb or frighten most people, but her enigmatic personality and pure heart left me feeling I simply had no other option than to travel half way around the world to help this amazing woman continue on with her amazing work.
Scallywag's notes: It should come as no surprise that Somaly Mam is a personal favorite of our journal, and we have featured her and her cause countless times. On a personal note what has struck me with regards to Ms Mam is her humility, her striking beauty and the deep regard she has for the tortured soulds she seeks to save and nourish, in so far as that perhaps allows her to nourish and 'save' herself.
Truly an inspiring woman and no matter when we meet she always leaves me blushing and slightly in awe of her.
Somaly Mam at the Somaly Mam Hearts and Hands Gala: 'You are all my Heroes.'
Stop Sex Trafficking of Children and Young People.
Honoring Somaly Mam and her greatest fan Lauren Bush.