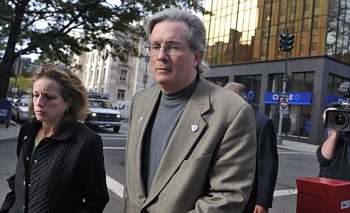 While deliberating on whether or not newly convicted mass-murderer Steven Hayes, 47, should face the death penalty for sexually assaulting and then killing three women in a home invasion, ( Jennifer Hawke-Petit, her daughters, Hayley, 17 and Michaela, 11) one unnamed juror passed a love note to a court marshall in an attempt to "set up an illicit date" with him.
The judge presiding, Jon Blue had a clerk read the note before the court. Scrawled on slip of paper, it read, 'Sunday 5 p.m., Side Street Grille, Hamden.' Calling forth the juror, said Judge Blue: 'Pardon my French, but this was a god—- dumb thing to do.'
The juror in question, described as 'lovesick' reassured the court her feelings had 'absolutely not' effected her decision making as she 'covered her face in embarrassment.' Still, considering both the gravity of the matter at hand the risk of tainting the trial, doesn't her decision making seem, if anything, questionable?
Which brings us to the central issue here: why risk months of deliberation so you can pass a love note for feelings that may or may not even be requited?
While easy to castigate the juror for being callous, inconsiderate, or even sexually deviant, doesn't this better, well, testify to the quality of judgment on the part those we trusted to choose a responsible jury?
But after months locked up in that courtroom, forced into listening the most sordid details of a sex-murder for what amounts to a pittance, who can really blame her for making a single poor decision? And what does it say about the almost herculean task of being one of those thankless men and women forced into sacrificing so many months of their lives for, what, $25 dollars a day? What about the fact that without such sometimes miserable public service, it wouldn't be possible to live in any system that even approaches a democracy?