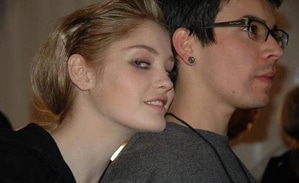 Shawn Mount, New York stylist husband of one supermodel  "slowly climbing her way to fame," Heidi Mount, has been arrested in the UK today for allegedly raping a "rival" model at a hotel during London Fashion Week, while his wife was away on a gig in Milan.
Scotland Yard Released the Following statement to Page Six: "We received a complaint of a serious sexual assault at 1.30am on September 20 at a central London hotel. The 24-year-old victim was referred to the Haven Centre (a victim support centre). A 30-year-old man was arrested on September 21 on suspicion of rape and bailed to return to a London police station in November. He has not been charged and we are still investigating."
Though it certainly does seem that the Vogue and Ralph Lauren stylist, who "strenuously denies the attack," does protest too much, doesn't the possibility for a fashion rivalry conspiracy seem more than just a little ripe?
After all, what better way to overpower and destroy a social climbing fashion rival in the media than by not only stealing her man (if only for a night) but then accusing him of rape?
And though the victim's identity has not yet been released, it should be considered, at best, a matter of time before it, too, gets strategically 'leaked.' (Probably in a front-page worthy Scotland Yard press release.)
Source: Daily Mail.Co.Uk