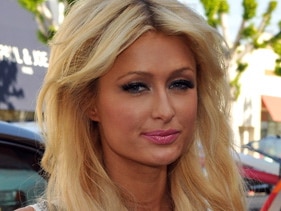 In his sassy new tabloid tell-all, former Girls Gone Wild cameraman Ryan Simpkin relates an incident in which ex boyfriend of Parasite Hilton- hustler Joe Francis had 'Parasite' smuggle some of the good shit via international borders. Simpkin currently being sued by douche bag Joe for breaking a confidentiality agreement goes on to write how Parisite concurred a plan to stash a flotilla of coco pops in a box of cigarettes stuffed in her vagina. Which makes us wonder, does Parasite have a spare smoke to go with our diet Kool- Aid?
The trying lengthy account, excerpted in Stalker Gawker (the prose of which, one astute commenter remarked, "reads like the worst Bret Easton Ellis fiction ever") relates an incident in which Joe Francis called Simpkin from France needing a favor: "[Francis] needed [Simpkin] to go to [his] drug dealer and get him twenty hits of ecstasy and four 8-Balls of coke."
The plan, of course, was to have Paris smuggle the considerable stash over to her lover via airline.
Eventually, Simpkin acquires both the coke and X, says (provocatively) "Man, that's a lot of blow," crams it all inside a cigarette box (after, unsurprisingly, skimming a little bit for himself), and heads over to a Seventeen Magazine photo shoot where meets up with a naked Paris… all between reminders that he's, like, so totally a hungover (could his life get any better?).
Simpkin writes: "I asked if she was flying private, and she said, 'No, commercial.' And then as politely as I could, I asked her how she planned on traveling with that amount of blow and X. She held the box in her right hand, and then with an underhand swoop like a lower case J, she demonstrated exactly how she intended to beat airport security. She even whistled as she did it. A little alley-oop with the Camel Box, straight up her snatch. Classic."
Does this mean, next time Paris gets pulled over, the police will get to skip the purse (probably not hers anyways) and delicately shove the search warrant directly in her pooter?
Of course we can already imagine the headline now- "Parasite tweets her crotch was tampered with."

Don't you wish you were a coked out superhero too?
The Weekend in Celebrity Profiling: Paris and The Jersey Set Under Attack
Parasite Hilton now suspects she was set up.
Parasite Hilton is being sued for $35 million dollars.
What's missing in this picture of Paris Hilton?