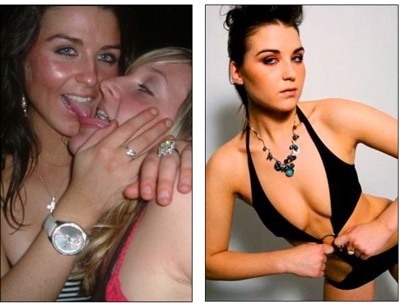 Premier League Footballer Wayne Rooney, and Wife Colleen — one of English football's most high profile power couples — have been in the news recently for Mr. Rooney's alleged infidelities with a 21 year old prostitute… around the time of the World Cup of course. Though the reportedly steamy relationship has given many a way to account for the striker's lackluster Cup performance (at least on the field), today the attention has turned to the young woman 'at centre' of the sex scandal: the masterful social climber of a prostitute herself who goes by the call name of Juci Jenni — Jennifer Thompson.
Daily Mail:  Rooney, 24, reportedly slept with 21-year-old Jennifer Thompson, who charges £1,200 a night, seven times in four months. They had sex in one of Manchester's most exclusive hotels, and visited nightclubs and casinos together.
Juci Jenni began her quest for media attention like all other supposedly 'fame-hungry' young women: on social media of course!
A source told the Daily Mirror: 'Jennifer loved being near celebrities. She'd have her pictures taken with them. What better way to become famous? Too bad she didn't know about Patrick McMullan… we can only imagine.
In a carefully edited multi-platform social media masterwork that would make any media whore (and I mean that in the most literal sense of the word) on Myspace jealous,"Miss Thompson posted provocative pictures of herself in a bikini on the internet and wrote about how she was desperate to become a glamour model. In the profiles, 'Juicy Jeni' described herself as a party girl who often frequents hip bars in Leeds and Manchester popular with footballers. Alongside such information as that she 'always drinks in style on a Saturday night,' she lists her religion as Catholic.
It shouldn't be surprising then, that by adding all the best celebrities, rappers, and footballers to her Facebook account, Juci Jenni, described by British media as a 'WAG wannabe' (WAG is the English acronym for wives and girlfriends of high profile footballers), somehow managed to herself become a celebrity — every social media user's fantasy.
But what is it about about befriending, being photographed with, and, ideally, having sex with all the right people that can so quickly propel someone (provided they're attractive and have meticulously groomed their online profiles) into social media superstardom? Shouldn't Juci Jenny should be every social climber's role model?
Or to put it another way, has Juci Jeny suddenly become our wonderful but very strange role model, pink knickers and twitters and all…?