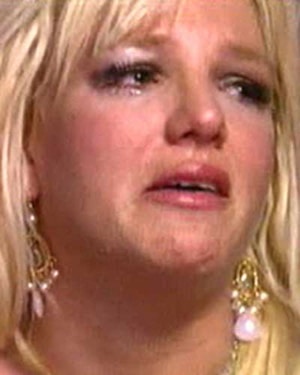 Britney Spears is being sued by her former bodyguard, Fernando Flores for (of all things) sexual harassment following reports that Britney, whom, he says, hit on him 'savagely' showed him her (in)famous  'britney.'
According to Flores, the incident was only one of many he experienced while working for Spears which caused him to feel 'shock and disgust.' But has Britney become a real 'savage predator' to put even us to shame? Let's examine the matter more closely…
One particular encounter, described in the suit — and recounted by the UK Daily Mail – reads almost too much like a badly written porno movie, glitter flakes aside. But, alas… it must be: 'She [Britney] was wearing a white lace, see-through dress.  She walked over close by [Flores], intentionally dropped her cigarette lighter on the floor, bent over to retrieve it and thereby exposed her uncovered genitals to [Flores].'
'You know you liked it,' was the aging (can we yet say former?) pop sensation's coy remark.
But Mr. Flores, quite apparently, didn't like it; and, let's be honest, how many of us really would? Could it be that Britney's famous  'people' (they get talked about more than her these days) have done such a good job of making her un-newsworthy that they've succeeded at making her feel unattractive as well?
As we all know, it's always the hottest celebs that are talked about the most — this is how us bitches in the media work.

But in case you think pink Brit is hustling for 'sexual gratification,' the chipmunks rummaging in the hallway took an official vote and have come to the notion that in actuality our Madonna was hustling for 'serial theatricality.'
"Defendant Spears immediately ran back towards her house screaming 'Preston [the name of one of Britney's children],'" the document revealed. "She entered the residence through two French doors on the north side. Plaintiff exited the pool house, hearing Sean Preston screaming in terror and pain, and saw Defendant Spears at least twice savagely hitting the small child with Plaintiff's belt. Plaintiff was shocked, horrified and deeply disturbed by the incident."
Does it not seem, at least from the proceedings, that Britney is simply harassing these young men (both Flores and her children) because she's imitating the unfortunate environment she's herself so long been subjected to? Isn't this kind of savagery all she really knows? Heck, should we be calling David Lynch right about now and get him to make a remake of 'Blue Velvet Britney?'
If anything is certain, it's that Flores' own overly theatrical reactions much less the brutal way in which he's whored these allegations so shamelessly shows he's a savage predator (if an opportunistic one) of the same  breed as his mistress…
Tell us, Mr. Flores, isn't it good to be in the fame business?
Source: Huffpo
Britney Spears melt down at Starbucks.
Britney can do whatever, forever.
Britney Spears Lip-syncs Her Way Through.
Britney wants to be congratulated because she doesn't look like a pig anymore.