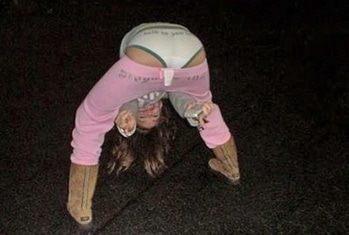 After recent reports of Miley's antics in her upcoming movie, the aptly titled LOL, in which "Miley's character loses her virginity, smokes pot, gets wasted and kisses two girlfriends on the lips" it's apparent that Miley Cyrus has been a very bad girl. And in one recent video currently making the rounds on all the usual gossip sites, she gets what she deserves: a nasty spanking from mommy with a… comb?
The carefully edited vignette, beginning with a close shot of Miley zipped into what appears to be a black leather bustier as she tempts her dominatrix mother already coyly threatening her slave daughter with a spanking before a crowd of uncomfortable onlookers, plays more like a teaser for the supposedly racy new movie (stopping just short of those much promised lesbian kisses) than a genuine mother-daughter interaction. Where's co-star Demi Moore when you need her? At least, unlike Tish Cyrus, she's a believable actress.
Huffington Post: [Miley] is a true professional, and she truly has a wonderful family," she said. "It really shows."
That the Cyruses are so keenly aware of the cameras in the video and how to work them, much less how to get their publicists to virally manipulate the blogosphere using a clip strategically edited to appear both 'leaked' and 'naughty' without showing any considerable skin is truly commendable. As is blue balling every pervert in America looking for some real Cyrus mother-on-daughter action (if only there was a punctuation mark for 'sad puppy face').
One can't help but wonder what attracts us to this video. After all, it isn't smut — it's family fun masquerading as smut, and nothing short of a perverse corporate mockery of everything we love (or love to hate) about voyeurism.
Like so many stars, is the Cyrus corporate clan losing their grasp on the all-important American ideal of 'reality?' Has the perpetual presence of prying cameras already made their lives into one great, and unending artwork whether they realize it and attempt to manipulate it or not?
In the movie, "You're my daughter," Demi tells Miley at one point, "And I won't let you turn into a porn star!"
Did on-screen softcore porno mother and real life mother just switch roles? It certainly appears so.
Additional source: Huffington Post.
The bad behavior of young women.
Miley Cyrus On a Mission to Piss off Disney
Why Are We Consuming This? Timbaland, Cyrus.
Is Miley Cyrus Becoming an Ungrateful Brat already?
9 year old Noah Cyrus shocks civilization by turning up as a dominatrix.
This Just In: Teenage Girl Raps Terribly.
Pandemonium in TV kiddie land:When the drinking and the nipple rings come out.
Lindsanity Trying to Infect Miley?
Miley Cyrus- Teenage Tart of the Weekend.