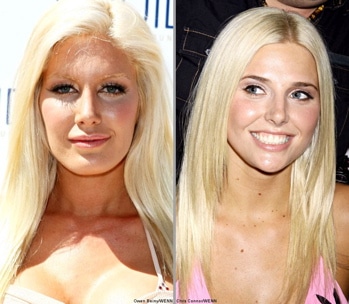 The plot (if we can really call it that) thickens in the Heidi Montag sex tape scandal. Now, Playmate Karissa Shannon, not just content to be a piece of ass, wants a multimillion dollar piece of the action.

The Huffington Post: Karissa claims that Spencer does not own the tape because he stole her video camera when he came over to pick up some stuff from Heidi's house in Malibu.
"Spencer had no right to steal my camera," she said. "There are other things on there that I don't want to come out, including the video of me and Heidi."
When not busy fondling phallic pieces of fruit to give us all free (for the time being) prelude of things to come, Karissa is — more than understandably — busy jamming the signals (now the tape is only of her and Heidi, at least allegedly) and positioning herself right in the center of media attention.
The real only question is, of course, who's next to sue for a piece of this? Why not find out what brand of camera the film (and I use that word strategically, as this is obviously far more than simply a 'tape' or a 'movie') was shot on and have all the companies shareholders make the lawsuit class action? If Citizen Kane is in the national archives, shouldn't the supposed "Citizen Kane of sex tapes" be a national treasure as well?
One cannot help but wonder what, perhaps a real treasure hunter like Nicholas Cage or Indiana Jones would think about all this. I'm thinking something like: "Karissa, this film belongs in a museum!" Maybe then we would start going to those again.
Heidi Montag is now Desperate to Have Her G-Sized Breast Implants Removed
The Heidi Montag and Spencer Pratt made to order 'sex tape' farce is finally here.