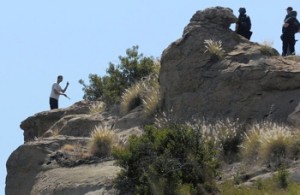 Police standoff becomes a surreal media opportunity.
For 8 hours yesterday police tried to subdue suspected killer and man on the loose Stephen Hill, otherwise known by his stage name- Steve Driver, a celebrated porn star, as he threatened on and off to kill himself. Poised over a cliff at the base of a hill overlooking Hollywood, Hill in the end chose to leap to his death, or so it seems.
Speculation is running rampant that taser shocks from encircling police made him fall, others speculate he chose a dynamic heroic death with samurai sword by his side whilst the paparazzi whet their lips and took countless pictures of the surreal scene unfolding.
How bizarre in the end Hill dies in the stand off where as in his real life he pursued a type of vocation that lead to so many people escaping reality and living through him weird and sometimes dangerous fantasy worlds. It seems in the end Hill couldn't resist the urge to firmly lodge himself in history to give the greatest performance of his career. Even if that career only offered one short take.
Apparently a recent firing and being evicted from his living quarters led to Hill going on a murder spree against his colleagues and to his ultimate death.
Go to Gawker for gruesome video images of his death. Not for the feeble.

Source:Gawker