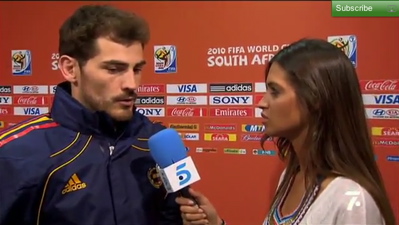 It was the upset of the World cup tournament when Spanish goal keeper- Iker Casillas had a lapse of concentration and allowed his team to be beat by the lowly Swiss team. Yet it seems the consequences of his foul up go deeper.

News.com.au reports;
The goalkeeper responsible for Spain's shock defeat against Swizterland in the teams' World Cup opening match was accosted by his 25-year-old girlfriend on live television and asked to explain himself.
Iker Casillas squirmed with embarrassment as his girlfriend, Spanish TV journalist Sara Carbonero, asked him immediately after Wednesday's game: "How did you muck that up?"
Which is tantamount of Sara telling the world for the next 6 months her vagina is off limits to Iker, who will have a lot more to squirm about. Never mind the fact that Sara is considered one of the world's most sexiest reporters, a reporter that Iker can pretty much rest assured wont be getting too many personal interviews.

Casillas was unable to look Carbonero in the eye as he tried to explain his mistake: "I don't know what to say. I don't know if this defeat will have consequences. The dressing room is fed up."
To be fair the consequences will be fair and swift and we can bet half of Spain are sending 'no let go in' letters to Sara who is equally furious. As for Iker let's hope he makes it up to Spain, or the next 6 months are going to be very very harsh…