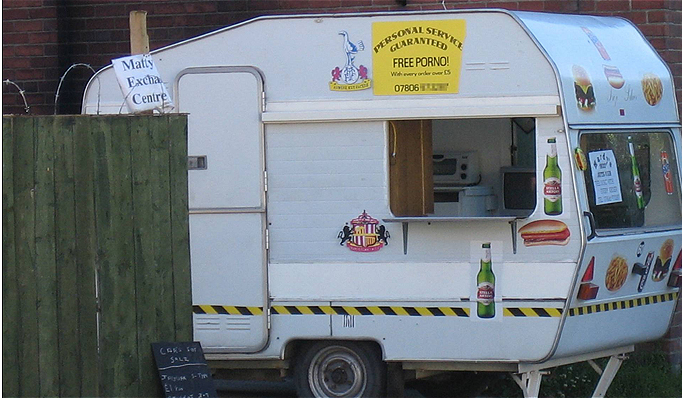 I would like a burger with fries, a Heineken, and…..Anal Annie too please?
This seems to be a typical order at a Burger Van in the market town of Driffield, East Yorkshire in the UK (Minus Anal Annie, I am sure the porn varies).

When a customer orders more than 5 Euros, a little over 6 US dollars, the customer is then entitled to a free tit flick. They even had a little sneak peek showing inside the van…Just in case you did not think they were serious when they offered you a flick.
The bad news is, the locals do not exhibit the same appreciation I have when reading about a brilliant entrepreneur idea. Locals that witnessed the Burger-Tug stand informed police of the mature offers. The sex scene then turned into a mission impossible-esq movie as the cops decided to go undercover and explore the hidden world of selling porn with burgers and beer.
Sgt Dave Jenkins said: "The van had been operating for about two weeks. We received complaints that free porn DVDs were being offered to everyone who spent £5(Little over 6 USD) or more on beer and burgers. Undercover officers made test purchases and found this to be true before Saturday night's operation when the caravan was seized. We won't tolerate this because a youngster could have been given the DVDs."

Officers also believe that the van was not even licensed to sell food and beer on the street. Which is probably the only indecency that we can see…
Thanks to the officers, the streets of Driffield are not only clean from yanking flicks, but also good priced beer and food. Thanks to the efforts of Sgt Dave Jenkins, residents are now once again being forced to risking viruses by searching for porn on their computers and paying ridiculous prices for monthly subscriptions to Bang Bros and Milf Hunters.

Really Sgt Jenkins- Shouldn't we all be more appreciative and enthusiastic of people's entrepreneurship ideas from time to time?

Source thesun.co.uk