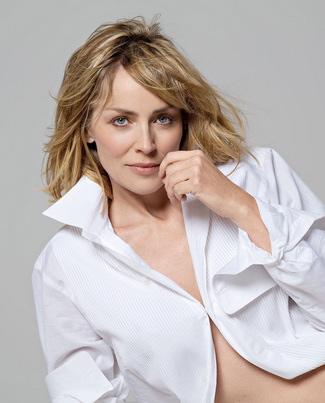 Life is becoming unfair for Basic Instinct's Sharon Stone but at least 20 year old boys still like her.
Life's been a bitch for Sharon lately, first there was the botched lip plastic surgery that turned her into Janice Dickinson's reflection, the divorce from her toy boy who dared to break her heart and force her to admit she was a human being capable of being in love with someone other than herself and now comes the news that life is perilously out of control for the 52 year old because it's been 2 weeks too many that she hasn't had a good romp. Which means it's probably time for Sharon to start cruising up and down Santa Monica looking for all the stray 20 year old boys she can find.
Reports Huffington Post:

On her current dry spell:
"Life and love is like the ocean. Sometimes the tide is in and sometimes the tide is out, and sometimes it's like the frigging Mojave. Fortunately, I like the desert. I'm a desert flower."
Which must be making Sharon's undies groan deeply at night, but then again, we don't really think Sharon ever bothered with underwear to begin with.

On dating younger men:
"I really get pursued by men in their twenties, like, a lot," she says. "They probably know there's food in the fridge and that somebody's there to talk to them and ask them how their day was."
The reason Sharon gets pursued by 20 year olds is because one of her recent screws put a notice on the dorm locker with her number, hopefully the next hot young hot stud will have the decency to remember steno graphing her number across his forehead so there is no confusion that Sharon wants some lovin.'