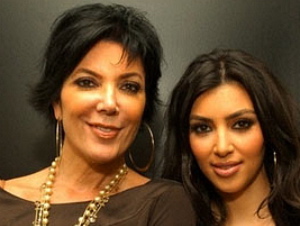 The fantastic things that happen in California, America…
We all know Kim Kardashian is the fame whore of all fame whores, but who do you think she got it from? Well her mom Kris Jenner of course. She is the queen pimp of mom managers striking it rich with the help of her two other daughters Kourtney and Khloe. Once the media finally realizes they're skanks with no brains just like their sister Kim, is when Jenner will be in the poor house with her plastic faced husband Bruce; unless she finds some new clients such as…her grandchildren.
I believe Kris has already created her plan because it's fact that she's rushing Kloe to push out a baby so she can corrupt it like Kourtney's son Mason. But of course she's just using the 'I want more grand kids line,' but she's not fooling anyone. In an interview with PEOPLE, Kris sent a warning to daughter Khloe saying, "She better step it up. I need another grandchild…it kind of makes sense. I'm hoping." Who's also hoping is Kris' bank manager.

Anyway just another day in California.