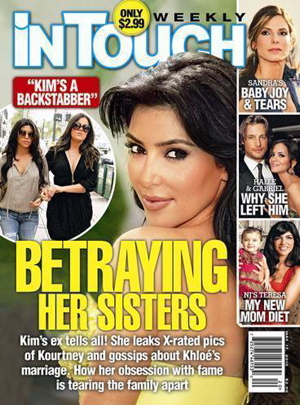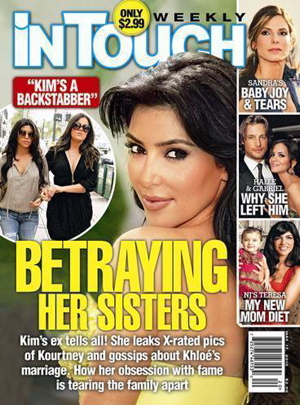 What came first Kim or the media?
Kim Kardashian's head must be going whoosh right about now as a new interview between Kim's ex husband- Damon Thomas and In Touch Magazine has him spilling the beans that Kim in essence is all of the following: a fame-loving, lying, plastic surgery-loving cheat.
Of course it gets better: here's the press release, just in case you felt like reading a book this afternoon (we took the liberty to edit it…)
Kim Kardashian wants the world to think that she's the perfect, supportive sister who would do anything for her family. But in an exclusive interview with In Touch, Kim's ex-husband says that behind closed doors, Kim has a very different — and troubling — set of priorities. "Kim is obsessed with fame," Kim's ex, music producer Damon Thomas, reveals, adding that even when he was in love with her, Kim struck him as the type of person who would step on anyone in order to get where she wanted — including her sisters, Khloé and Kourtney. "She's jealous and competitive with her sisters," he shares. Desperate to be famous, Damon says, Kim doesn't seem to care whom she hurts — whether it's friends, lovers or even her own family. "She can't write or sing or dance, so she does harmful things in order to validate herself in the media," he says. "That's a fame-whore to me. It's just not cool at all."
In any event life will go on, children will wake up in the morning, Lindsay Lohan will reach for her crack pipe, Heidi Montag will drive over to her plastic surgeon's office, Larry King will masturbate to his wife's sister, a three legged Chinese man will drive into an oncoming bus killing 4000 people and Kim Kardashian will eventually wake up, giggle and wonder how she ever became so famous.